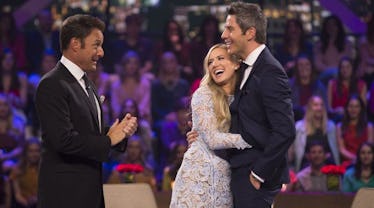 Chris Harrison's Possible Wedding Gift To Arie & Lauren Is So Random, But Hey, It's Useful
For those of you who forgot the whole Arie-Lauren-Becca drama on the last season of The Bachelor, here's a little refresher. At the end of his season, Arie Luyendyk Jr. proposed to Becca Kufrin. But he changed his mind, and dumped Kufrin on national TV because he was still in love with runner-up Lauren Burnham. Luckily, all parties have moved on. Kufrin was the most recent Bachelorette and Luyendyk and Burnham are about to tie the knot. And of course, because we would expect nothing less, Chris Harrison's wedding gift to Arie and Lauren is perfect.
Well, to be fair, he told Us Weekly that what he gets the newlyweds-to-be totally depends on whether or not he snags an invite to their January 2019 wedding in Hawaii. The 47-year-old host of The Bachelor franchise is pretty confident he'll be invited, but on the off chance he's not, he's got a backup plan in mind.
"I better be sitting front and center at Arie's wedding," Harrison, 47, told Us Weekly exclusively during a Bachelor in Paradise set visit in June. "If not, I'll send them a candlestick or a serving dish … A blender or a trash can. I think I got Trista [Sutter] a trash can. That was my gift to her."
Yep, that's right. If they dare not invite him to their wedding, Harrison is going to send Luyendyk and Burnham a nice ol' trash can. LOL.
While most of us, myself included, would perceive the gift to be petty, Harrison argues that pettiness isn't his intention at all! Or at least it wasn't when he got the trash can for Trista. "She wanted it. It was a very nice trash can, and it was on their list," he explained to Us Weekly. "Here's the thing, I don't go rogue. If you have decided that's what you want. It was this nice, automated trash can. You have to remember, like 15-16 years ago, that was cool to wave your hand over the trash can and it just open."
OK, fine. I'll admit it. Trash cans that just open when you wave your hand over them are really freaking cool. And, I mean, if he was getting trash cans like that 15 years ago, who knows what kind of cool, futuristic trash can he'll be pulling the trigger on for Luyendyk and Burnham!? Maybe the gift really isn't so bad after all.
In the same interview, Harrison also opened up about who he believed to be the most surprising couple in Bachelor in Paradise history. "I think you go, again, Carly [Waddell] and Evan [Bass] just because, if you were here, boots in the sand, there's no way that that relationship was going to happen, much less getting engaged. And I'm pretty sure they had a baby," he told Us Weekly. "So that's pretty phenomenal because I know Carly pretty well. I knew her better than Evan at the time. And if looks could kill, she would have killed me just for being on the jalapeño date."
The jalapeño date Harrison is referring to happened on Bachelor in Paradise, when he challenged Waddell and Bass to make out for 90 seconds after chowing down some habañero peppers. Makes sense that Waddell would not have been down with that.
In fact, he's seen so many surprising couples get together that he's over guessing who will end up together. "I don't really ever pick favorites to hook up because I never really know who will end up … Could you have ever said Carly and Evan or even Jade [Roper] and Tanner [Tolbert]?" he asked Us Weekly. "So I really don't even know what to wish for or what to hope for because I don't know if you could ever pick who ends up in Paradise. But I know that our success rate is very, very high. I don't know what our batting average is, but it's got to be enough to keep us in the big leagues."
He also opened up to Us Weekly about his relationships with the show's contestants. "I think at the end of the day, honestly, to be cheesy, just friend. I get close to these people," Harrison told the publication. "By the time you are, say, the Bachelorette, with Becca [Kufrin], I've known her for a year now. And even with Arie. Arie I knew for what, five or six years before he was the Bachelor? And so you get to know these people. You root for them. You want it to go well, and you go on this journey with them."
Aw, who knew Chris Harrison was such a big softie?!
Check out the entire Gen Why series and other videos on Facebook and the Bustle app across Apple TV, Roku, and Amazon Fire TV.
Check out the "Best of Elite Daily" stream in the Bustle App for more stories just like this!