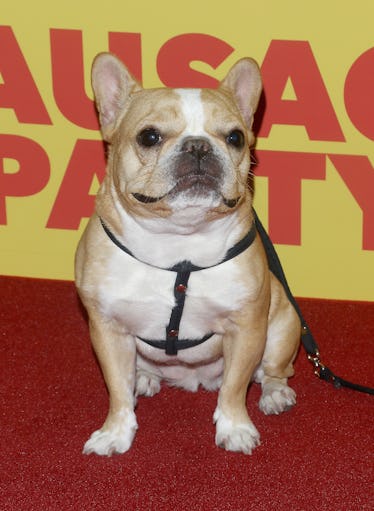 Chloe The Mini Frenchie Dog Died & We're So, So Heartbroken
I'm so sad to inform you that Chloe The Mini Frenchie dog has died in a tragic accident. The famous pooch with way more Instagram followers than me was the victim of a reported fatal error at a New York City animal hospital, her owner Loni Edwards revealed in a shocking announcement on Wednesday, Oct. 25. Considering Chloe's previous 'gram was a video of her wearing a dancing bear costume set to the tune of Drake's hit song "Hotline Bling," it's understandable that literally no one saw this coming — not even Edwards.
Unfortunately, it happened, and Edwards had to share the news with her Insta-famous pup's 185K followers. She penned an iPhone note at 6:02 p.m. on Oct. 25 detailing exactly what happened before taking a screenshot and uploading it to Chloe's profile, swiftly breaking everyone's hearts with the news. The tear-jerking note reads,
we're numb and heartbroken to share that chloe has gone to heaven. she was perfectly healthy this morning when she went in for a routine procedure, and did great with the surgery like the fighter she was. she was then brought to blue pearl in chelsea for overnight observation for extra safety and the staff there erroneously directly attached the oxygen to her, the pressure of which blew out her lungs, lead to multiple cardiac arrests and ultimately killed her. she fought so so hard to stay with us, but the fatal error was simply too much for our little nugget to overcome. thank you for loving chloe these past 4 years. she was an incredible pup and we're going to miss her so so much.
A spokesperson for Blue Pearl, the animal hospital where Chloe died, told Page Six that they're looking into the incident. "We are so very sorry for the loss of Chloe, a special dog who brought joy to thousands of people. This was a medical error that shouldn't have happened," they told the publication. "We are conducting a review and will be taking immediate steps to ensure nothing like this ever again occurs at one of our hospitals. We recognize that pets are part of our families, and we strive to give our patients the same care we would want our own pets to receive." Elite Daily reached out to Blue Pearl for comment, but we did not hear back from the clinic at the time of publication.
Chloe's fans, naturally, are very, very upset that the pup who frequently blessed their Instagram feeds passed away under such tragic and preventable circumstances. Many of them have taken to Twitter to publicly grieve.
"MY HEART HAS SHATTERED OH MY GOD"
We were attached!
"Please respect my privacy in this difficult time."
How will we go on with our lives?
RIP, you precious baby girl.
Some fans are placing their anger beyond Twitter and onto Blue Pearl's Yelp page, which has seen an onslaught of angry reviews since fans were made aware of Chloe's passing. "You killed Chloe!!" one reviewer wrote, while others expressed similar sentiments and scorned the animal hospital for "recklessness and negligence."
In addition to her loyal fans, Chloe's fellow famous dogs have posted tributes to her. TOAST MEETS WORLD (@toastmeetsworld), for example, shared a photo from her "wedding" with a heart drawn around her "bridesmaid" Chloe. "You were the most beautiful bridesmaid a girl could ask for #ChloeTheMini and your infectious smile will be missed dearly," she captioned the photo, making me tear up.
Rest in peace, Chloe. Instagram will never, ever be the same without you, little one.