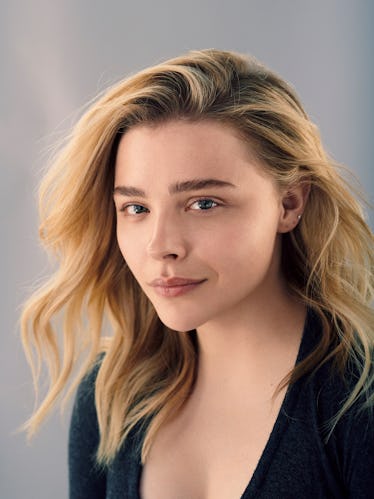 Chloë Moretz Wants You To Feel Confident In Your Bare Face, So She's Showing You Hers — EXCLUSIVE
Christopher Anderson, Alessandra Sanguinetti and Jim Goldberg // Magnum Photos
When I first see Chloë Grace Moretz, she's sitting on a red, velvet couch, and she's also dressed in red from head to toe. While I'm intrigued by the intensity of what I'm seeing in front of me, as I sit down next to her, I'm even more enthralled by her look — from the chin up. No, she wasn't wearing a sharp, layered contour. No, there was no extreme cat-eye or wild eyeshadow. Rather, Chloë Moretz embraced her makeup-free, natural beauty. Minimal products. Maximal confidence. Something I can't imagine when I look in the mirror and make a mountain out of a tiny molehill of a zit.
You see, Moretz recently partnered with luxe skincare brand SK-II for the brand's #BareSkinProject, dedicated to rejecting the notion that wearing makeup is required for a woman to feel confident and to encouraging women to feel comfortable in their bare skin. As I chat with Moretz, I immediately get the sense that this is a mindset she tries to live by every single day. In fact, this is the philosophy that drew her to the brand in the first place.
"Simplicity, I think, for women is something the brand has always been a part of, and [I also love] how organic their products are," she says. "For me, I don't use any products besides now Facial Treatment Essence ($179, sk-ii.com)."
Moretz tells me that working with the brand felt so natural to her because she herself limits what she puts on her face if she can help it. In fact, her skincare routine is surprisingly simple.
"I literally wash my face with olive oil and honey," she says. "So I try to keep it as simple as possible. And so once I started using their [SK-II's] products, it showed me that theirs were just as organic as the honey and olive oil I was putting on my face."
Despite Moretz's simplistic approach to beauty now, she didn't always have that mindset. She tells me that when she was younger, she, too, was caught up in the fleeting beauty trends we all find ourselves flocking to, and "putting makeup on every day" was initially an activity she felt bound to. "When I was younger, I always felt like I needed to put it on before I left the house," she says. She continues that she "[remembers] being, like, 13 years old and thinking a cat-eye was beauty. I was like, 'This is it. If I learn how to do this cat-eye perfectly, I got it.'"
As she got older, though, Moretz says she realized that feeling comfortable in your skin shouldn't have to be contingent upon how much makeup you may or may not have on. "As a grew up, I was kind of like, 'Why don't I feel comfortable just walking out of the house as I do when I walk around the house with my family? I should be able to feel that confident,'" she tells me. "And as I grew up, that was an important thing for me, to kind of get past hiding behind makeup, and being able to be like, 'This is it! Either I've got dark under-eyes today or I don't.'"
Moretz recognizes, though, that, especially in today's society, it's not so easy to wake up and feel good about yourself. With unattainable standards being thrown our way at every turn, it's understandable to feel as though you have to do everything you can to fit into those boxes. In these situations, Moretz says the best advice she's been given is "don't try to fit in other people's molds of what they think is beauty."
"When I was younger, I tried to be what everyone else thought was beautiful," she says." "And you just have to realize that a lot of beauty is trends. Physical beauty in particular is something I always tried to fit myself into, and growing up, you start to realize that certain things work for you, and other things don't work for you."
Now, to showcase the power of learning to feel confident in your bare skin, Moretz is embracing the natural look for SK-II's #BareSkinProject. As part of the campaign, Moretz, as well as Chun Xia, Kasumi Arimura, Mayu Matsuoka, Ni Ni and Tang Wei, were photographed in a whole new light: totally makeup-free and totally un-retouched. Needless to say, for a lot of celebrities, this is something we don't see every day.
Later on this month, on June 29, SK-II will release an intimate video with Moretz, documenting her bare-skin journey and showing that, even though it's not always easy, learning to feel confident in your natural state is possible.
So while my eyes might still bug with horror every time I take my makeup off at night, I'll try my best to remember what Moretz told me: "Things are OK. You're OK. And you're beautiful the way that you are."