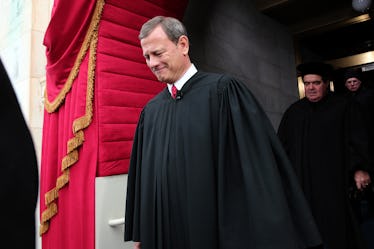 Supreme Court Chief Justice Roberts Shaded Trump's "Obama Judges" Comment With A Subtle Burn
Win McNamee/Getty Images News/Getty Images
On Tuesday, November 20th Donald Trump criticized the 9th Circuit Court for being "unfair" when U.S. District Judge Jon S. Tigar, who Trump called an "Obama judge" issued a temporary restraining order preventing the Trump administration from refusing asylum to immigrants crossing the southern border. On Wednesday, November 21st, Supreme Court Chief Justice John Roberts responded to Trump's criticism, refuting Trump's statement with a statement of his own.
In a comment to the Associated Press, Roberts said:
We do not have Obama judges or Trump judges, Bush judges or Clinton judges. What we have is an extraordinary group of dedicated judges doing their level best to do equal right to those appearing before them.
In the spirit of Thanksgiving, Roberts also added, "the independent judiciary is something we should all be thankful for."
According to the AP, Trump's exact grievances about the 9th Circuit Court's asylum decision centered around the administration getting "beaten." He said:
Every case that gets filed in the 9th Circuit, we get beaten. And then we end up having to go to the Supreme Court, like the travel ban, and we won...And I'll tell you what, it's not going to happen like this anymore.
Soon after Roberts' response, Trump tweeted a response of his own saying that Roberts was wrong and there are indeed "Obama judges" that undermine the integrity of an independent judiciary.
In a two-part Twitter thread, Trump wrote:
Sorry Chief Justice John Roberts, but you do indeed have "Obama judges," and they have a much different point of view than the people who are charged with the safety of our country. It would be great if the 9th Circuit was indeed an "independent judiciary," but if it is why......are so many opposing view (on Border and Safety) cases filed there, and why are a vast number of those cases overturned. Please study the numbers, they are shocking. We need protection and security - these rulings are making our country unsafe! Very dangerous and unwise!
Trump's complaints about federal judges and their practices are nothing new. Last year, Trump slammed U.S. District Judge James L. Robart's temporary block on the Trump administration's travel ban, calling Robart a "so-called judge" and his decision "big trouble." Earlier this year, in 2018, he also criticized American-born Judge Gonzalo Curiel, saying he couldn't possibly be an impartial judge because he was Mexican. He went as far as to tell CNN's Jake Tapper that the judge should recuse himself simply because of his heritage.
Many politicians and public figures tweeted their support for Roberts' comments challenging Trump and the doubts he cast on the 9th Circuit Court and its intentions. U.S. Senator Richard Blumenthal thanked Roberts for refuting Trump's "demagogic denunciation" of Tigar and added: "When the history of this dark era is written, our independent judiciary (& free press) will be the heroes." Former Nixon White House Counsel John Dean wrote, "It is long past time to check the autocratic words and actions of Trump. Nice to learn that Chief Justice Roberts has a spine."
Tigar has not responded to Trump's comments.