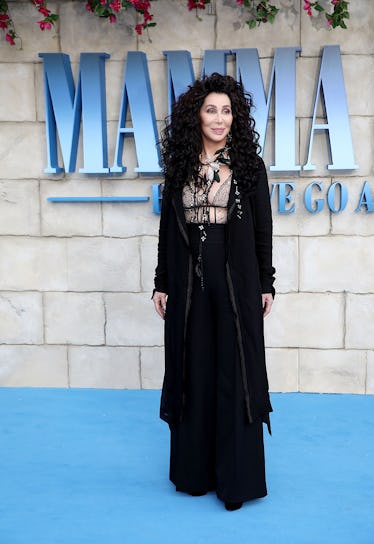 Attention 'Mamma Mia' Fans: Cher Is Releasing A Full ABBA Cover Album
John Phillips/Getty Images Entertainment/Getty Images
This year continues to serve up the most ABBA-tastic summer since the '70s and fans are here for it. I guess the record execs heard our prayers, because on the heels of starring in the box office smash Mamma Mia! Here We Go Again, Cher is releasing an entire album of Abba covers. The singer/actress/goddess' album is set to debut as soon as Sept 28., and Cher's Dancing Queen tracklist proves it's chock full of fun faves that should satisfy any ABBA lover's needs.
"I've always liked ABBA and saw the original Mamma Mia musical on Broadway three times," the icon explained of why she took on the throwback project. She went on:
After filming Mamma Mia! Here We Go Again, I was reminded again of what great and timeless songs they wrote and started thinking 'why not do an album of their music?' The songs were harder to sing than I imagined but I'm so happy with how the music came out. I'm really excited for people to hear it. It's a perfect time.
Cher clearly knows what the people want. Check out the Dancing Queen tracklist and start stretching for the epic dance party that will inevitibly follow upon its release:
1. "Dancing Queen"
2. "Gimme! Gimme! Gimme! (A Man After Midnight)"
3. "The Name Of The Game"
4. "SOS"
5. "Waterloo"
6. "Mamma Mia"
7. "Chiquitita"
8. "Fernando"
9. "The Winner Takes It All"
10. "One Of Us"
Cher portrayed Sophie's (Amanda Seyfried) estranged grandmother Ruby Sheridan in the Mamma Mia sequel, which hit theaters last month on July 20. Her legendary voice was clearly music to the audience's collective ears — the "Fernando" duet with Andy Garcia is a standout moment.
"After I did "Fernando," I thought it would really be fun to do an album of ABBA songs, so I did," Cher explained on The Today Show. It's not what you think of when you think of ABBA because I did it in a different way."
Cher hasn't starred in a live-action film since 2010's Burlesque, but it appears she jumped at the chance to be a part of a musical juggernaut that she was already a believer in. Even though she's taken a break from the big screen of late, Cher has been keeping incredibly busy. Her "Classic Cher" concert residency has been going strong since 2017 and she's about to embark on a "Here We Go Again" international tour to promote her upcoming album, which kicks off this September in New Zealand.
And if you can't wait until next month to get your groove on to Cher's Dancing Queen, she's got you covered with a sneak peek. Cher took to Twitter on Wednesday night to share a teaser snippet of its first single, "Gimme! Gimme! Gimme!" Spoiler alert: It's a banger.
At 72-year-old, Cher already has an Oscar, Emmy, and a Grammy awards under her bedazzled belt. Perhaps Dancing Queen and Mamma Mia! Here We Go Again will earn her even more accolades. Is there anything this woman can't accomplish?