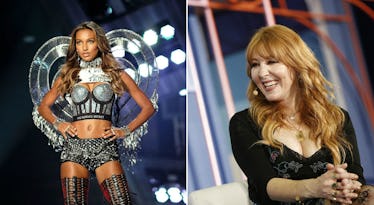 Charlotte Tilbury Is Taking The Beauty Reigns At This Year's Victoria's Secret Fashion Show
Matt Winkelmeyer/Getty Images for Victoria's Secret // Brian Ach/Getty Images Entertainment/Getty Images
Spooky season, fall, Thanksgiving season — whatever you wanna call it, I can only call it by one name: Victoria's Secret Fashion Show season. Yes, if you thought all the fashion week shenanigans had come to a close for 2018, you are sorely mistaken. It's now almost everyone's favorite time when the famous lingerie and activewear retailer pulls out the big guns, crafting a true spectacle filled with some big-name models, even bigger-name performers, and all the theatrics you could ever imagine. However, as important as the, well, actual fashion is to the show, it's the makeup that really seals the deal. And this year, Charlotte Tilbury is the official makeup sponsor for the Victoria's Secret Fashion show. Cue me screaming for eight years because this is the best news ever.
"I am beyond excited to officially announce that I am the exclusive makeup sponsor of the heavenly, world-famous, iconic Victoria's Secret Fashion Show 2018, in one of my favourite cities – New York! I have worked at this incredible, legendary show before and the dreamy, gorgeous supermodels have inspired the beauty DNA for so many of my magical products – from the perfect pouts to glowing goddess eyes!" Charlotte Tilbury said via a press release. "It is a dream come true to be doing Victoria's Secret show makeup this year with my brand, on our 5th birthday, with the world's most heavenly models that are a dream to work with! I will also be bringing back two gorgeous, limited-edition products that will be used on the Angels to create the official look."
If you haven't been introduced to Charlotte Tilbury and her eponymous cosmetics line, I consider it an honor to be the first to let you know about it. Tilbury is an incredibly talented British makeup artist who has quickly become one of the most influential figures in the beauty industry. For more than 26 years, Tilbury has worked her way up through the beauty industry, eventually creating what is, in my opinion, one of the most high-quality, sought-after cosmetics lines there is. Hell, just recently, I got my hands on Charlotte Tilbury's surprise new Stars In Your Eyes palette, tried it out, and was glued to my mirror for an hour because I couldn't stop staring at myself.
Now, this isn't Tilbury's first go-'round at the Victoria's Secret Fashion Show herself. According to a press release from the brand, the renowned makeup mogul has, in fact, acted as Lead Makeup Artist for the show before. However, this is the brand's 5th birthday, so as the ~official makeup sponsor~, it's a particularly special event.
While the Victoria's Secret Fashion Show took place in Shanghai last year, with performances from the likes of Miguel and HARRY STYLES (sorry, I'm still reeling over that), the brand has brought the show back stateside to New York City. The specific 2018 venue and performers are still being kept under wraps, so we'll all have to stay tuned to promptly freak out over who will be gracing the stage with the models.
Frazer Harrison/Getty Images Entertainment/Getty Images
Frazer Harrison/Getty Images Entertainment/Getty Images
Designer Mary Katrantzou has been announced as a collaborator with Victoria's Secret to debut what will surely be stunning creations on this year's runway. And of course, the show would not be complete without your favorite Victoria's Secret Fashion Show veterans — Martha Hunt, Stella Maxwell, Behati Prinsloo, and Ming Xi, to name a few — as well as some amazing new faces, like Winnie Harlow, Kelsey Merritt, and Duckie Thot. It's unclear whether the Hadids or Kendall Jenner will walk the show this year, as none have confirmed or denied whether they would be walking.
All in all, one thing's for sure: Like every year, 2018's Victoria's Secret Fashion Ahow will undoubtedly be a sight to behold. Get ready come November 2018. With a star-studded lineup and what will be impeccable beauty moments, courtesy of Charlotte Tilbury, this is an event you surely won't want to miss.