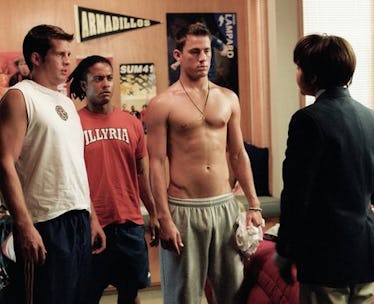 Channing Tatum Had The Cutest Reaction To Amanda Bynes Saying She Helped Launch His Career
DreamWorks
Amanda Bynes has been through it in her 32 years. And yes, your favorite early-aughts It Girl is now 32. Kinda shocking, right? I mean, it feels like she was just starring in She's The Man, like, five minutes ago. But that movie actually debuted more than 12 years ago, before Bynes started abusing drugs, suffered a public breakdown, and announced on Twitter that she was taking a break from the spotlight. Now she's back — and four years sober! — and she recently took credit for a certain Magic Mike star's success. But Channing Tatum's reaction to the Amanda Bynes interview with Paper Magazine, where she gave herself props for making him famous, is actually really sweet. It isn't all that surprising considering he's legit the most perfect human.
OK, so here's what Bynes told Paper about how she pushed for Tatum to be cast as soccer captain Duke Orsino — her character Viola's roommate and love interest — in She's The Man:
I totally fought for Channing [to get cast in] that movie because he wasn't famous yet. He'd just done a Mountain Dew commercial and I was like, 'This guy's a star — every girl will love him!' But [the producers] were like, 'He's so much older than all of you!' And I was like, 'It doesn't matter! Trust me!'
It's like she was psychic, you know?
Anyway, this was Tatum's response when Entertainment Tonight asked him about Bynes' claim:
I love her. I guess she sort of told me [that she fought to get me in the movie]. I love her.
That's two "I love hers," if you're counting. Like I said: most perfect human. I mean, who else could look this hot with a tampon stuck up his nose?
Meanwhile, I can't really fault Bynes for taking credit for Tatum's success, since before She's The Man, he had really only done commercials and smaller film roles like "Boy in Church" in 2005's War of the Worlds. And even that was uncredited. But after She's The Man, he landed Step Up, and, well... you know the rest.
Perhaps that's why Tatum has such great memories of costarring with Bynes in the film. "She was just so alive," he told ET. "You never knew what was going to come out her mouth, she was just on fire... I haven't seen her in so long. I love you, Amanda, and I hope you're doing well."
Annnd that would be another "I love you."
But Tatum doesn't just love Bynes. He's also rooting for her comeback. "I'm so happy she's killing it again and just back on the right," he said. "She's so talented and so special. I think it's so impossible when you start at such a young age to keep perspective. It's tough."
True story. And so damn sweet. Who else would be here for a Viola/Duke reunion in a sequel called, like, She's Still All That or something?
Same.
In the meantime, here's that Mountain Dew commercial Bynes was talking about:
You. Are. Welcome.