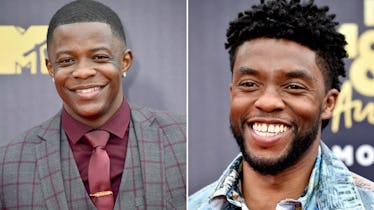 Chadwick Boseman Gave His MTV Movie & TV Award To A Very Important Person In The Crowd
Frazer Harrison/Getty Images Entertainment/Getty Images
There's no question that Chadwick Boseman is an amazing actor. So, it should come as no surprise that the 40-year-old won big at the 2018 MTV Movie & TV Awards. As one of the first winners of the night, Boseman kicked off the show on a really generous note by giving his Golden Popcorn award to someone really special. So, who'd he give it to? Chadwick Boseman gave James Shaw Jr. his MTV Movie & TV Award and made everyone feel inspired by his selflessness.
Boseman won the Best Hero award for his role as T'Challa/Black Panther in Black Panther. The award was presented to him by Zazie Beets and Olivia Munn. In his acceptance speech, Boseman thanked the fans as well as Ryan Coogler, who Boseman said tried to make a movie for everyone:
Thank you to the fans — you made this movie special. You made this moment special. When Black Panther came out, Ryan Coogler and I wanted to make sure that we did a a movie that everybody could embrace. So thank you so much for what you did.
Black Panther broke records and made history by becoming the first African American film to gross over a billion dollars. And its cultural impact has been nothing short of impressive, amazing, and necessary. People all over the world want to go to Wakanda. Too bad it only exists in the Marvel universe.
But all that aside, Boseman did something a little different during his acceptance speech. After noting the impact of Black Panther, he explained that accepting an award for playing a superhero was really special, but that he wanted to call attention to a real life hero: Shaw.
For those of you who don't know, Shaw disarmed a gunman at a Waffle House in Antioch, Tennessee back in April 2018. According to CNN, the gunman fatally shot four people and wounded several others with an AR-15 rifle. Shaw was also wounded during the incident, but that didn't stop him from intervening in an attempt to save lives.
A hero, indeed! Boseman acknowledged Shaw's bravery with his heartfelt speech:
Receiving an award for playing a superhero is amazing, but it's even greater to acknowledge the heroes that we have in real life. So I just want to acknowledge somebody who's here today — James Shaw Jr. If you don't know James Shaw Jr., he fought off a gunman in Antioch, Tennessee, at a Waffle House to save lives.
Boseman then paused to ask Shaw to stand and to allow everyone in the audience to give Shaw a well-deserved round of applause. To Shaw's surprise, Boseman invited him on stage and presented him with the award he'd just won.
"So, this is gonna live at your house," Boseman said as he handed the Golden Popcorn award to Shaw.
Shaw's surprise and genuine appreciation was clearly visible on his face. He simply couldn't stop smiling. So, it was a pretty amazing and emotional moment.
In a tweet that Boseman posted while the awards show was airing, he thanked the MTV Movie & TV Awards and made mention of Shaw once again:
🍿🍿🍿 and more 🍿… THANK YOU #MTVAwards! #BlackPanther fans, you're incredible. During the show, I was honored to meet @JamesShawJr9. He saved countless lives by tackling a gunman who opened fire on people in Antioch, Tennessee in April. He's a true hero that walks among us.
Clearly, Shaw has had a deep impact on Boseman.
In addition to being nominated for Best Hero, Boseman is also nominated for Best Performance in a Movie (which I hope he wins!), and the Black Panther team is nominated for Best Fight, Best On-Screen Team, and Best Movie. So, there is definitely a lot of activity going on for Boseman and Black Panther at the MTV Movie & TV Awards. Good luck to everyone involved!