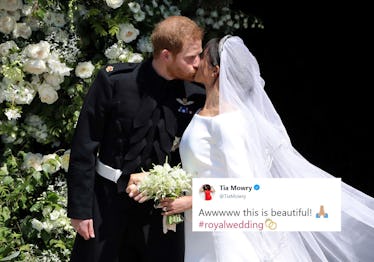 These Celebrity Tweets About The Royal Wedding Prove The Whole World Is Obsessed
WPA Pool/Getty Images Entertainment/Getty Images
Prime live-tweeting is usually reserved for The Bachelor and award show blunders (Moonlight, anyone?). As much as I love my go-to lineup of celebs who tweet perfectly snarky opinions of the latest rose ceremony or red carpet fashion, the live-tweeting prospects of Prince Harry and Meghan Markle's wedding had my inner Anglophile tingling with anticipation. Although I still have my fingers crossed for Meghan's celebrity BFF Priyanka Chopra to send out a tweet from Windsor Castle, I'm relying on these celebrity tweets about the royal wedding to wake up my funny bone this morning.
Chopra has stayed relatively tight-lipped in the weeks leading up to the big day, but she did reveal a little dirt about Markle's experience while speaking to Andy Cohen. Chopra has been a top-notch friend during Harry and Markle's engagement, keeping any private details to herself but always sharing just how incredible of a person Markle is. Plus, who could forget her heartfelt dedication to Markle in the TIME 100 issue?
While she may be one of the few celebs who scored an invite to the wedding itself, Chopra isn't the only one who has been vocal about her love for the royal couple. When the couple's engagement was announced in November 2017, many stars took to Twitter to voice admiration for Meghan's realness and her adorable chemistry with Prince Harry and, of course, freak about their excitement for the wedding.
Of course, Markle was technically one of celebrities' own until she said, "I will." The Suits actress kept a low profile until her relationship with Harry went public, but she used her public platform to promote awareness of gender equality and Third World countries' access to clean water, among other causes. In her engagement interview alongside Harry, Markle acknowledged leaving her acting career behind for the duties of an English royal, saying,
I don't see it as giving anything up. I just see it as a change. It's a new chapter. Keep in mind I've been working on [Suits] for seven years, so we're very, very fortunate to have that kind of longevity on a series and once we hit the 100th episode mark, I felt, 'I've ticked this box.'
Other celebs don't seem to be taking her departure too hard, with plenty of them waking up at the crack of dawn to watch the festivities across the pond. Like the rest of us, they probably weren't too thrilled about the early day, but given that it's been the better part of a decade since the last royal wedding, are any of us really complaining about the drastic wake-up call?
Some of the celebrity tweets about the wedding covered everything we fervently discussed in our own group chats, from tea selections to the American preacher taking the royal family to church. Of course, love was on everyone's mind as well.
Of course, it was only right for Markle's Suits husband, Patrick J. Adams, to post a sweet message of support for his friend. On the wedding eve, Adams also posted an Instagram photo of the Suits actors attending the wedding at dinner together. I've never been more jealous of someone's messy dinner table, TBH.
The worlds of celebrity and royalty truly crossed over when Meghan's friend Serena Williams took to Twitter to announce she was sharing parts of her royal wedding experience on her Instagram Story. Excuse me while I Google how to save an Insta Story.
Williams eventually appeared in St George's Chapel alongside fellow celebrity guests such as Oprah Winfrey, Carey Mulligan, James Corden, Idris Elba, George and Amal Clooney, and several Suits actors. I know arranged marriages are mostly a thing of the past, but can we plan out a few more "royal marries a celeb" weddings to see our favorite stars among all of this English finery again?
Now, excuse me while I try to compose the perfect tweet to rival these celebs' musings.