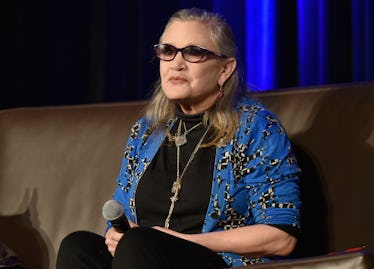 Legendary Carrie Fisher Sent A Cow Tongue To A Producer Who Assaulted Her Friend
Daniel Boczarski/Getty Images Entertainment/Getty Images
Carrie Fisher was always a goddamn legend. She lived her life unapologetically and her opinions were no-holds-barred. She gave us General Leia Organa, and she gave us Gary Fisher the Frenchie — equally iconic beings. She was also one of the most badass female role models of our time just by being herself. And now we have even more reason to love the late, great star, seeing as Carrie Fisher once sent a cow tongue to a producer who assaulted her friend. (I'm going to file that under "sentences I never thought I'd write but am pleased that I have.")
The woman Fisher defended was her longtime friend, producer/writer Heather Robinson. She wanted to add her story of sexual harassment and sexual assault into the pool of women sharing theirs following the allegations against Harvey Weinstein, so Robinson called in to 94.9 Mix FM in Tucson, Arizona, to tell her story. She told the radio station that she went to a meeting in 2000 with an unnamed Oscar-winning producer. During the meeting, he allegedly assaulted her. Robinson said she was able to get out of the situation, and when she did, she told Fisher everything. What happened next was a how-to guide in being a legend. Ross said,
About two weeks later, she sent me a message online and said, "I just saw *blank* at Sony studios. I knew he would probably be there, so I went to his office and personally delivered a Tiffany box wrapped with a white bow."
When Robinson asked Fisher what was in the box, Fisher apparently said,
It was a cow tongue from Jerry's Famous Deli in Westwood with a note that said, "If you ever touch my darling Heather or any other woman again, the next delivery will be something of yours in a much smaller box!"
YES, CARRIE. This is f*cking amazing. I don't know about you, but it's doing a great job of lifting my spirits (and I hope yours, as well) during a month when it feels extra draining to be a woman. In the interview, Robinson said she was new to Hollywood when the alleged assault happened and had a meeting scheduled with a producer. She says she felt safe enough going into the meeting, but when she got there, things happened really fast. She said,
It happened so quickly that I was ashamed of myself. I thought I did something wrong ... I stayed quiet for years; I didn't want the retribution.
She describes the alleged assault in detail in the interview and then describes Fisher's actions. Robinson tweeted the interview on Oct. 13, saying, "U can only warn people what u know. #CarrieFisher stood up 4 me back in 2000 here is my interview with @mixfmtucson." She added that it felt "validating" to know that someone as powerful as Fisher jumped to her aid in such a harrowing time.
In the wake of the Weinstein allegations, women have been sharing their stories of sexual harassment and sexual assault on social media to shine a spotlight on just how bad the problem is. With the help of the simple phrase "#MeToo," women have been sharing their stories in the hopes that it makes other women who have had similar experiences feel less alone. Robinson is now one of many women in Hollywood to share such stories.
On Oct. 5, The New York Times published a report detailing a decades-long history of Harvey Weinstein allegedly sexually harassing his female employees. Weinstein responded to the allegations in an Oct. 5 statement to the public saying,
I appreciate the way I've behaved with colleagues in the past has caused a lot of pain, and I sincerely apologize for it. Though I'm trying to do better, I know I have a long way to go.
Weinstein's spokeswoman, Sallie Hofmeister, provided the following statement to Elite Daily in response to the accusations:
Any allegations of non-consensual sex are unequivocally denied by Mr. Weinstein. Mr. Weinstein has further confirmed that there were never any acts of retaliation against any women for refusing his advances. Mr. Weinstein obviously can't speak to anonymous allegations, but with respect to any women who have made allegations on the record, Mr. Weinstein believes that all of these relationships were consensual. Mr. Weinstein has begun counseling, has listened to the community and is pursuing a better path. Mr. Weinstein is hoping that, if he makes enough progress, he will be given a second chance.
To sum this all up: Carrie Fisher is still the most badass woman to ever exist in Hollywood.