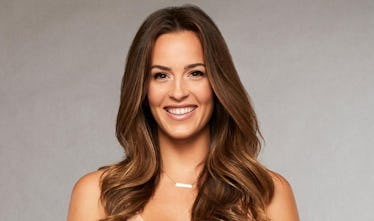 Caroline's Awkward AF Arrival On 'Bachelor In Paradise' Has Fans Shipping Her With John
ABC
The most awkward thing happened on Bachelor in Paradise! And it involved Caroline from Arie's season of The Bachelor and Venmo John. And Bachelor Nation is going wild over it all because they are relatable AF. Caroline's arrival on Bachelor in Paradise was so awkward and shows just how relatable this show really is.
Basically, Caroline showed up out of nowhere with a date card in hand and immediately took Joe the Grocer for a little chat. Unfortunately, it didn't go very well because Caroline had literally no idea what to do. She just kept saying things like "I don't know what to do" and "I don't know how to do this" and it kind of made Joe the Grocer a little uncomfortable and she immediately made a run for it by using the "I need to use the bathroom" excuse. Yikes!
If that's not awkward, I don't know what is. Luckily, Caroline came into the situation with her options open.
Caroline gave Venmo John a shot next and they hit it off right away. They're both extremely awkward, but have super sweet personalities. And fans are genuinely loving seeing them together.
Here's what everyone is saying about them on Twitter:
Things got even more awkward when Caroline and John went on a date at a restaurant in town. While John was trying to have a serious conversation, Caroline was busy naming stray cats. Literally every time a stray animal passed by, she encouraged John to name it. And, as you can imagine, it was strange and awkward as ever.
In any case, John and Caroline had a great time nonetheless and they even shared a romantic kiss in the moonlight. It was an almost perfect date, it seems.
Give that they formed such a connection, Caroline found herself totally smitten with John. But John, like anyone else in paradise, is keeping his options open.
A new gal showed up the very next day: Jubilee. Almost right away, all the guys were fawning over her. Even John. He and Jubilee had a little chat on the beach and they, too, really hit it off, which left Caroline feeling bitter.
What's worse is that Jubilee then asked John on a date ...while he was busy cuddling with Caroline. So, she basically snatched him right out of Caroline's clutches which is genuinely wild. Clearly, Venmo John has more game than anyone anticipated. Two dates in two nights is pretty good for the "nerdy" guy of the group, right? I'd say so.
So, anyway, John and Jubilee went on a zip lining date and had drinks after. There was a lot of laughter and a lot of getting-to-know-you talk, so you could say they hit it off during their date.
At one point, Jubilee was so impressed with John that she asked him what he was even doing in paradise. Beyond that, though, they talked about their passion for music, nerd culture, and everything in between.
There's definitely a connection there. Look out, Caroline!