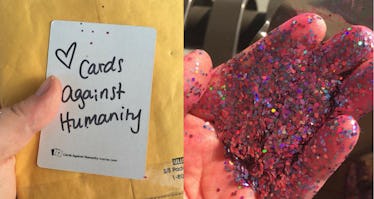 Cards Against Humanity Makes One Customer's Glitter Dreams Come True, & I'm Laughing
Leave it to Cards Against Humanity to slay the customer service game. When a patron reached out about missing glitter from her Pride expansion pack, the self-described "party game for horrible people" came through with an excess amount of the sparkles. The back-and-forth is detailed in a 16-picture Facebook post, and it's one of the best things on the internet. Cards Against Humanity trolled a customer with glitter, and the exchange is going viral.
When Kait Johnson of Attleboro, Massachusetts, ordered five bundles of Cards Against Humanity's Pride Pack, the online game store was out of glitter packets that would normally accompany the expansion packs. Determined to get her glitter, Johnson emailed the company asking if there was any way for them to send a "sh*t ton" of the sparkly goodness after the fact, according to a public post on her Facebook profile. Well, Cards Against Humanity more than delivered on the request. The card company responded to Johnson's email and advised her to, "Be careful what you wish for." Dun, dun, dun.
About a week later, an envelope showed up at Johnson's door. Inside of one envelope was a small amount of glitter and a playing card that read, "Sorry we f*cked up! Love you," and was signed by Cards Against Humanity, according to a public Facebook post by Johnson. Inside of a another envelope was more glitter, but not enough to satisfy Johnson. So, she emailed the card company again.
"Is that all you got (I am actually really happy you guys even responded)," she wrote back to Cards Against Humanity after receiving the first two envelopes. What follows is nothing but one big awesome, glittery mess.
Cards Against Humanity accepted the challenge. "Sorry to have underwhelmed you. Thanks for the excuse to take this too far. Please continue to keep an eye on your mailbox," a representative named Maria from Cards Against Humanity wrote back to Johnson.
This is where it starts to get good. If you don't like glitter or hate when things get messy, you might want to avert your eyes for the rest of this story. A United States Postal Service worker left a bin outside of Johnson's home with a package inside, and what appears to be mass amounts of silver glitter, according to a photo posted to Johnson's Facebook page.
"I haven't seen the floor in days. Every time I think I've finally gotten rid of it all, a tiny more appears," Johnson wrote back in an email to Cards Against Humanity. "Then a tiny bit more and more. I've succumbed to eating a small bowl of glitter with milk in the hopes that I can just be rid of it all. Update it hasn't worked."
Cards Against Humanity, which has offices based in Chicago, coyly reminded Johnson that she did this to herself.
"We tried to play it cool. You did this to yourself," it playfully responded. Johnson acknowledged the response with a simple, "You right."
Pride Month occurs in June and celebrates the LGBTQ+ community. Cards Against Humanity released a Pride Pack, complete with 30 brand new cards, to commemorate the celebratory month, according to the company's website. The packs were available for purchase with glitter or without glitter. In Johnson's case, the glitter option was no longer available (and it is currently still sold out). Touché.
Cards Against Humanity — 1; Kait Johnson — 0.