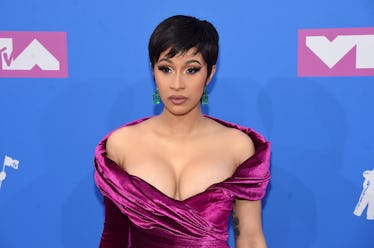 Cardi B's Clapback To Haters Judging Her Nude Photo Basically Proves She DGAF
Jamie McCarthy/Getty Images Entertainment/Getty Images
Cardi B loves Instagram Live. The rapper made that clear when she did a nearly 30-minute long Instagram Live video on Sunday, Aug. 26, and spilled the tea about just pretty much everything in her life, not that that's unusual for her. Cardi is as much of an open book as they come, so it's no surprise that she was completely comfortable with her husband, Offset, posting a photo of her nearly naked to his Instagram on Aug. 26. People were throwing shade at Cardi and Offset in the comments of the photo, naturally, but Cardi B's response to haters judging her nude photo is the most Cardi response I can think of.
"Let me be free," she said in her Instagram Live video on Aug. 26. "If I wanna be half-a** naked, why not? A b*tch used to be a whole motherf*cking stripper. If I wanna feel sexy, if I want y'all to see my motherf*cking body, why the f*ck not?" If Cardi B wants to show off her body, that's her prerogative. If she's OK with her husband posting a nude photo of her on Instagram (especially when he calls her a goddess in the caption), that's her prerogative too. She doesn't have to be demure and cover up just because she's a mother now, like some people in the comments of the photo suggested.
She addressed this and more during her 30-minute Instagram Live.
She admitted in the video that for a time before she was pregnant and during her pregnancy, she chose outfits that covered up her body more in an attempt to make her image more "clean." "Let me tell you, all right, let me tell you how I been trying to like clean my image up, right?" she said. "I don't know if you all noticed, but for a hot minute, even before I was pregnant I wasn't doing scandalous outfits. I was trying to show as much less skin as possible."
She continued, "When I perform, I would wear like leotards and sh*t but not extremely revealing. Like I really [didn't] want to be too sexy and everything because I felt like I needed a more cleaner image. And then it's just like, for what? For what?" Then she addressed the nude photo again, saying, "Like yesterday, when I posted myself half naked and everything, it's just like, why should I act like I'm a f*cking angel? I'm not a motherf*cking angel. I'm a motherf*cking nasty a** freak a** b*tch."
Cardi went even further, saying she doesn't think there's anything about her image that needs repairing, so there's no need for her to "clean up" her act. (She's right.) "Why should I clean my image up? Why should I act like I'm a saint? Why should I wear skirts that are to my ankles every single day?" she said. "Y'all still gonna call me a ho. Y'all still gonna call me a motherf*cking stripper. Y'all still gonna call me all that sh*t."
To really put this matter to bed, Cardi posted a photo of herself nearly naked to her Instagram on Aug. 27. It's a shot similar to the one Offset posted.
She quoted her song "I Do" from Invasion of Privacy in the caption and said,
I DO WHAT I LIKE, I DO ,I DO !
A fitting caption. Basically, don't tell Cardi B what to do. She's going to do whatever she pleases.