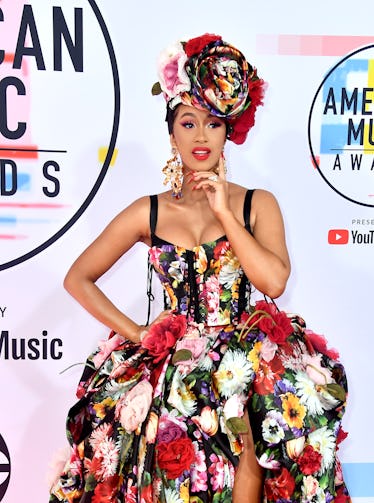 Cardi B Just Opened Up About Why She Hasn't Shared A Photo Of Baby Kulture Yet
Frazer Harrison/Getty Images Entertainment/Getty Images
Cardi B is opening up about being a mommy once again! And this time, she decided to explain why the world hasn't gotten a glimpse of her daughter Kulture just yet. In a recent interview, Cardi revealed the reason why she hasn't released photos of Kulture just yet. Apparently, Cardi is dead set on protecting her baby from the world. Cardi B's comments about protecting Kulture show just how important being a good mom is to her.
In a Wednesday, Oct. 25 interview with Ebro Darden on Apple Music's Beats 1, Cardi said that she and husband Offset "just don't want to show our baby right now." Cardi and her husband welcomed Kulture in July 2018. Kulture is their first child together.
In her interview with Beats 1, Cardi also said that she was offered money to publish photos of the baby. "I got offered seven figures [for baby pictures], but I'm just not ready yet," she said.
Given how frequently Cardi's name is in the headlines, it's totally understandable that she'd want to keep her daughter out of the public eye. After all, Cardi's the celebrity, not her daughter.
So far, the only glimpse of baby Kulture the world has gotten is a simple photo of her hands. Cardi shared the photo on her Instagram account back in September 2018. And it sounds like that's all fans can expect from Cardi and Kulture as of right now.
Here's the photo Cardi shared of Kulture's hands in September:
Cardi's comments to Beats 1 about keeping Kulture out of the media aren't the first. She also expressed similar sentiments last week on Oct. 17 while appearing on Jimmy Kimmel Live. In her interview with Kimmel, Cardi explained that she was "not mentally ready" to share her daughter with the world just yet.
"There's certain things I want to do with my daughter. Like, I want to go to the beach with my baby, I want to take a stroll down the street with my baby. And I can't, because I don't know who's next to me, or who has certain intentions," Cardi explained. "I don't wanna show my baby out to the public right now, I just want to protect her. I'm not mentally ready."
Cardi's reasoning for keeping Kulture under wraps really shows how important bonding with her baby is to her. And that, in turn, just proves she's trying to be the best mom she can be. Cardi's efforts to protect her baby are really admirable.
In her interview with Kimmel, Cardi then went on to say that she feels paparazzi are everywhere and that she just wants to do normal, everyday things with Kulture before letting the world have a look at her.
"But paparazzi be everywhere, like even in my a**hole," Cardi continued. "I would like to do normal things with my baby, but right now I gotta keep it very low key."
All in all, it seems as though Cardi is dedicated to keeping her little one safe and sound. How can you not respect a mama bear as fierce as Cardi?