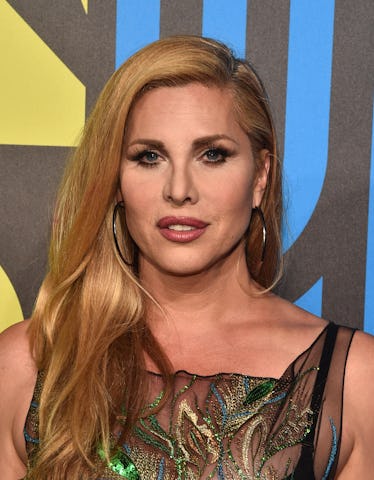 Transgender Actress Candis Cayne Joins 'Grey's Anatomy' For A "Groundbreaking" Story
Alberto E. Rodriguez/Getty Images Entertainment/Getty Images
Grey's Anatomy may be in double-digit seasons, but it's still proving it's got quite a bit to say, and there are quite a few new grounds to break in the long-standing doctor drama. After doing an episode this season that focused on spousal abuse, the series will also tackle transgender issues this year. The Hollywood Reporter announced today that Candis Cayne is joining Grey's Anatomy for a "multi-episode arc" in the latter half of this current year, Season 14.
For those not familiar with the name, Candis Cayne was a former drag queen in the New York club scene in the '90s, and starred in the seminal 1995 drag queen movie To Wong Foo, Thanks for Everything! Julie Newmar. A year later, she came out as a transgender woman. Since her transition, she has been part of the leading edge of transgender actresses taking transgender roles, first rising to national attention in ABC's short-lived Dirty Sexy Money in 2007, where she played mistress Carmelita. She's been a guest star fixture on RuPaul's Drag Race since 2012, and was most recently seen as a regular cast member on the Kardashian spin-off I Am Cait on E! as well as Amazon's award-winning Transparent.
Most would assume that joining a doctor-focused show for a multi-episode arc would mean that Cayne is playing a doctor, but actually no. Instead, she's playing a transgender patient. Her character has come to Seattle to consult with Dr. Grey Sloan about getting transition surgery.
According to The Hollywood Reporter, who broke the news:
Cayne will play a transgender patient who comes to Grey Sloan for what is being described as a "groundbreaking" vaginoplasty surgery. The character is inspired by a story that the writers on Grey's Anatomy read about Hayley Anthony, a trans woman who helped Jess Ting, the director of surgery at the Center for Transgender Medicine and Surgery at Mount Sinai, create a groundbreaking new procedure for vaginoplasty surgeries.
Showrunner Krista Vernoff said she is excited to do a storyline based on this revolutionary procedure and to bring attention to it nationwide.
[The surgery] revolutionizes the making of a vagina and we thought that was a really cool story and Candis is playing a character inspired by something we read.
This isn't the first time that Grey's Anatomy has taken the lead in revolutionizing how transgender characters are portrayed on national broadcast TV. This season has already introduced intern Dr. Casey Parker, who outs himself as "a proud trans man." He is played by trans actor Alex Blue Davis, but what's really revolutionary is that once Parker was outed, that didn't become the character's defining trait. It just happened to be part of who he is, but not at the expense of everything else.
Alex Blue Davis talked to The Hollywood Reporter at the time of that episode, and said the following:
What's cool about the show, the episode and Krista's vision for this character is he's about way more than being trans. I cried at the table read, it was very moving for me. I've been waiting for a moment like this on TV my whole life. I am so honored I got to say that line on TV because it's a long time coming.
Grey's Anatomy has already been picked up for two more seasons following this one, though word is that it will run until star Ellen Pompeo (who plays Grey Sloane) decides she's had enough. Until then, it remains part of ABC's Thursday night line up, airing at 8 p.m. ET as part of the Shondaland block of shows that includes Scandal and How To Get Away With Murder.