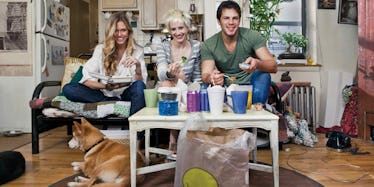 The Secret To Having Your Partner Sleep Over Without Pissing Off Your Roommates
When you live with roommates, you quickly figure out what each person's preferences and quirks are when it comes to sharing space. Your home is as much yours as it is theirs, and if they're bringing a significant other over most days, everyone should be on the same page – since you're basically adding in another roommate, rent-free. If there's a boyfriend or girlfriend sleeping over when you have roommates, just make sure everyone who lives in the apartment is fine with it.
Creating an understanding of how often people might be over can help your roommates set their expectations. Because days-old kitchen messes and extra-long showers aren't things anyone should have to deal with from someone they didn't even agree to live with in the first place. Especially a shared pet – which will require the roommate's partner to be at the apartment extra often – is probably something you should run by the other roommates first. Just a thought. I sought out the stories of some young millennial friends of mine to see how they dealt with their roommates having people over, or how they deal with bringing over their own significant others for the weekend (and sometimes, more than that).