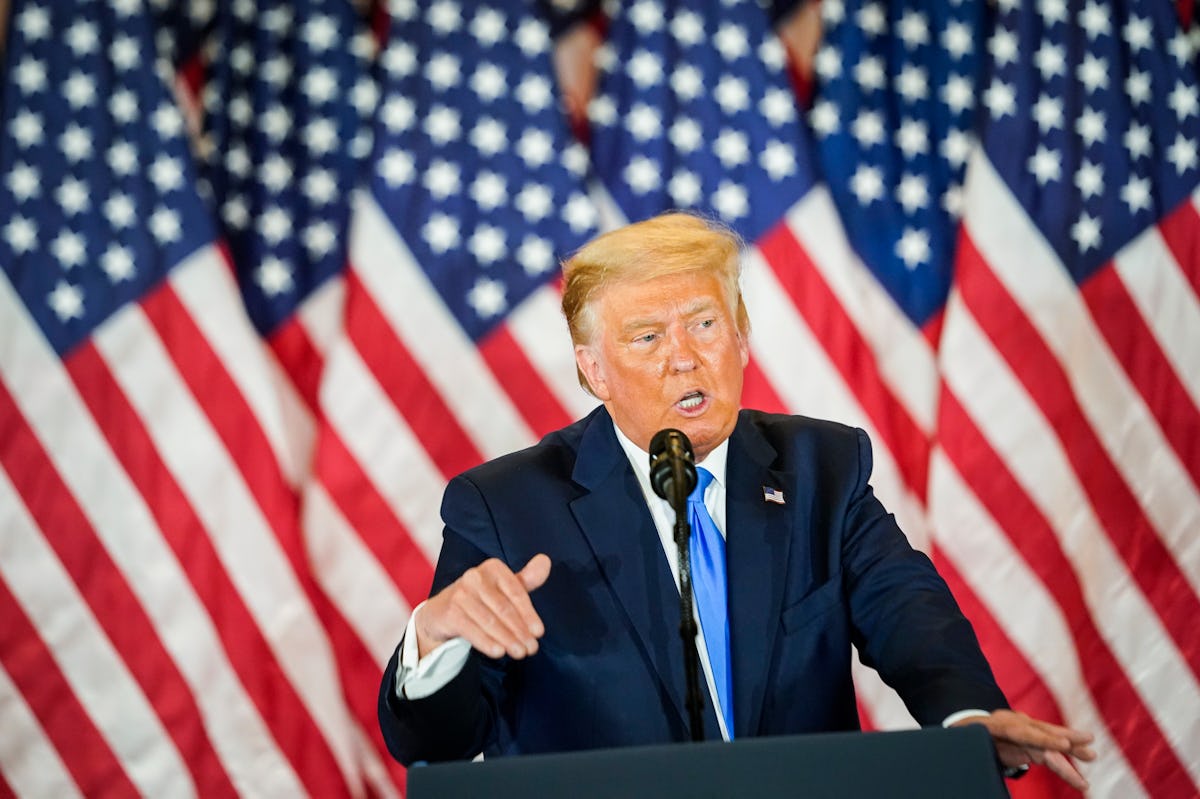 Here's What Experts Have To Say About Trump Declaring An Early Election Victory
The Washington Post/The Washington Post/Getty Images
While voters anxiously await the final results of the 2020 presidential election, President Trump has muddied the waters by declaring victory before all the votes have been counted. Experts have long warned it would likely take days before a clear winner could be projected, but it doesn't appear the president is on board with that sentiment. After the president posted a tweet declaring "a big WIN" in the early hours of Nov. 4, you're probably wondering if Trump can declare victory in the 2020 election before it's actually over. The short answer is: It could get complicated.
As of the morning of Nov. 4, there are plenty of mail-in ballots that still need to be counted, and no reputable news organizations have called the race for either candidate, so Trump's lone (and premature) claim to victory is not an end to the election. And experts agree: Mark A. Peterson, Ph.D, a professor of public policy and political science at UCLA, previously told Elite Daily: "The president is not the determiner of who wins the election." But it's not surprising that Trump would want to declare victory before it is certain. Elizabeth Sanders, Ph.D, professor emeritus of political science at Cornell University, previously told Elite Daily, "One thing the president just cannot tolerate is losing."
As of 11 a.m. ET on Nov. 4, The New York Times presidential race tracker has Joe Biden winning 227 electoral votes and President Trump winning 213 electoral votes, with Nevada, Arizona, Wisconsin, Michigan, Pennsylvania, North Carolina, Georgia, and Alaska yet to be called. President Trump claimed in a speech early on Nov. 4 that he "won Georgia," and "clearly won North Carolina," but again, those states have yet to be called, based on the Times tracker as well as several other news networks' official projections.
According to Peterson, voters shouldn't look to Trump for answers, but rather the Electoral College, which is the body that certifies votes in each state. Usually, this process takes days, if not weeks, before the electors cast ballots for the winners a month or so after the election. This year, it will happen on Dec. 14. Congress is the final body to confirm the results, and is set to do so on Jan. 6, 2021.
Peterson tells Elite Daily that Trump's early declaration of victory is "the most serious assault on our democratic institutions of any president, at least in modern times." He adds it also "sets the stage for political turmoil."
Where the trouble comes in for the 2020 election is with the counting of mail-in ballots. Trump has previously claimed that ballots counted after election night are "illegitimate," but many states had extended deadlines for receiving mailed in ballots, and those votes will be counted as long as they were postmarked by Election Day.
As the race tightens and hinges on key battleground states, there's no way to declare a winner a before all the votes have been counted, but that hasn't stopped Trump from trying to discredit votes. In his Nov. 4 speech, likely referring to the counting of mail-in ballots, President Trump said, "We want all voting to stop. We don't want them to find any ballots at 4 [a.m.] and add them to the list." Elite Daily reached out to the Trump campaign to confirm the President's remarks were in reference to counting mailed-in ballots, but did not immediately hear back.
In response to Trump's comments, Biden campaign manager Jen O'Malley Dillon said via press release on Nov. 4, "The president's statement tonight about trying to shut down the counting of duly cast ballots was outrageous, unprecedented, and incorrect." O'Malley Dillon added, "The counting will not stop. It will continue until every duly cast vote is counted. Because that is what our laws — the laws that protect every Americans' constitutional right to vote — require."
Trump has also already made clear his plans to go to the Supreme Court. In that same Nov. 4 speech, he said, "We were getting ready to win this election. Frankly, we did win this election. We did win this. So our goal now is to ensure the integrity for the good of this nation. This is a very big moment. This is a major fraud on our nation. We want the law to be used in a proper manner. So we'll be going to the U.S. Supreme Court." Again, no news networks have been able to declare a winner as of nearly 11 a.m. ET on Nov. 4, but according to news organizations and the Times tracker, Biden appears to be gaining ground from the counting of mail-in votes, in states like Michigan and Wisconsin.
Both campaigns have previously said they have lawyers ready to go if the election winds up going to the Supreme Court, and O'Malley Dillon said on Nov. 4, "If the president makes good on his threat to go to court to try to prevent the proper tabulation of votes, we have legal teams standing by ready to deploy to resist that effort. And they will prevail."