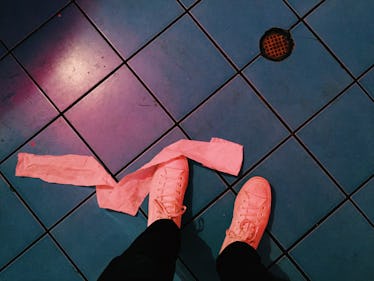 5 Weird, But Totally Real Things To Know About What Toilet Paper Can Do To Your Vagina
Having a vagina comes with certain inevitable truths: You have to wear underwear with jeans, you have to care about what day of the month it is, and you have to worry about things like toxic shock syndrome starting at about the age of 12. But there are also the things that totally blindside you, the questions you didn't even think to ask. Like, for example, can toilet paper cut your vagina?
In short, toilet paper can actually hurt your vagina in more ways than one. It's certainly not an everyday occurrence, but just like anything that you put down there, there's a chance you're causing irritation or infection simply by going through the steps of your day as you were taught — aka wiping after you use the bathroom.
Toilet paper is an insidious culprit for vaginal irritation because of how mundane it is. After all, you use it every day. You're taught to view it as a helpful way to keep your vagina safe and clean, which is why you would never think of it as the cause of any sort of irritation or infection. Yet, nonetheless, here we are. It's 2017, Donald Trump has been president for a year now, and toilet paper is potentially your new foe for vaginal safety.
If your toilet paper is irritating you down there, you're probably already aware of it, but you might have attributed the soreness or irritation to something else. The first thing you can do to feel better is, of course, buy some softer toilet paper. The second thing you can do, if the softness doesn't work, is to buy simpler toilet paper. By that, I mean toilet paper without additives, fragrances, or any dyes, all of which might tend to irritate you down there without your knowing it. Here's a breakdown of what you need to know about the unexpected relationship between your toilet paper and your vagina.