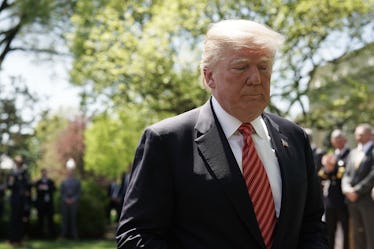 Mueller Is Reportedly Threatening A Serious Legal Action Against President Trump
Alex Wong/Getty Images News/Getty Images
Over fifteen months into Donald Trump's presidency, the Russia probe continues to cast a shadow over everything Trump does. The latest news item from special counsel Robert Mueller's investigation is that investigators reportedly suggested Trump might be forced to testify under oath at some point. That got me wondering, can the president be subpoenaed? The short answer, as with most of the Russia stuff, is that it's complicated.
The Washington Post reported on Tuesday, May 1, that Trump's lawyers reportedly sat down with the Mueller team in March for an uncomfortable meeting discussing whether Trump would need to testify under oath. The president's lawyers reportedly told Mueller that Trump did not need to cooperate with the investigation, which then prompted Mueller to insist that he could subpoena Trump before a grand jury. (A subpoena is a legal order that makes somebody provide documents or appear in court.) The explosive report by the Post is what dusted up the age-old presidential subpoena question.
The Department of Justice (DOJ) declined to comment to Elite Daily about the veracity of the report that Mueller is discussing subpoenaing Trump.
To be clear, sitting presidents have been subpoenaed in the past (the last time it happened was for President Bill Clinton in 1998, regarding the Monica Lewinsky scandal, per CNN). But the fact that past presidents complied with court orders doesn't really answer the question of if presidents legally have to agree to it. Diane Marie Amann, a law professor at the University of Georgia, told Vox in March that, unlike past presidents who have been subpoenaed, Trump could possibly refuse to give testimony under oath.
"The bigger question, it seems, is the extent to which a president may challenge such a subpoena," Amann said. "As a legal matter he, like all witnesses, could invoke the Fifth Amendment privilege against self-incrimination or some other testimonial privilege. But the political risks of doing so are much greater for a president than for other witnesses."
Other legal experts told Vox that because Trump is so unpredictable, it's hard to imagine exactly how he would handle a subpoena. Andy Wright, a law professor at Savannah Law School, told Vox that if Trump fights a subpoena, it could kick this legal question to the Supreme Court — as if this legal showdown weren't complicated enough already.
"Presidents Ronald Reagan, Bill Clinton, and George W. Bush all gave evidence in federal criminal investigations," Wright said. "President Trump has flouted other separation of powers traditions, so we may be headed toward a constitutional showdown."
Wright also noted that President Bill Clinton agreed to testify voluntarily in 1998. Clinton agreed not to challenge the constitutionality of the subpoena in exchange for Clinton's request that his testimony be done over video conference, Wright said. The keyword here is, "voluntarily." Trump probably will go out kicking and screaming — if his Twitter feed is any indication.
The question of a subpoena stems from the fact that the special counsel is reportedly interested in what Trump has to say about a whole host of topics. Mueller's reported questions for Trump were made public by The New York Times on Monday night, April 30.
The DOJ's investigation is primarily focused on potential ties between the Trump campaign and Russian efforts to interfere in the 2016 presidential election, but has sort of mushroomed out at this point. Per CBS, Mueller is also authorized to investigate other potential financial crimes that he might find. Already, his investigation has led to charges for four Trump campaign associates, per Fox News.
So really, the question of being subpoenaed and how it might play out has a lot to do with the president's temperament and how receptive he is to the idea. In January, Trump told reporters that he was "looking forward" to speaking to Mueller.
Here's to hoping Trump actually speaks to Mueller, and lordy, I hope there are tapes.