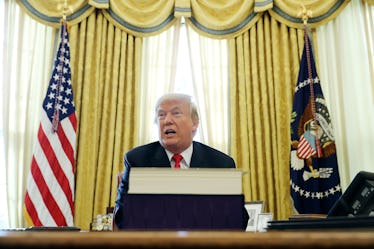 Congresspeople Talked To A Psychiatry Expert About Donald Trump's Mental Health
Chip Somodevilla/Getty Images News/Getty Images
Dozens of Democratic lawmakers are concerned about whether President Donald Trump's mental and physical health makes him fit to continue on in his presidency. To further explore their concerns, lawmakers brought in Yale University psychiatry professor Dr. Bandy X. Lee for private meetings on the Hill on Dec. 5 and 6 to get an expert opinion on his wellness. The question of mental health has caused a buzz among lawmakers about the 25th Amendment and if President Trump can be impeached over mental health concerns.
The private meetings with Lee were made up of over a dozen Democrats and one Republican senator, all of whom have not been named, according to an interview Lee did with Politico. While it was mostly Democrats that were seeking an expert opinion, Lee mentioned that the Democrats "main concern was getting Republicans on board." She said that while Republicans may share the same concern as the Democrats, they may not act on it.
The 25th Amendment states that if Congress finds the President "unable to discharge the powers and duties of his office, the Vice President shall immediately assume the powers and duties of the office as Acting President." Under that amendment, Congress can vote to decide whether the president is fit or unfit, hence, potentially, why Democrats are having private meetings to gain support from Republican lawmakers. If their efforts are successful, that would mean Vice President Mike Pence is up next.
Lee is the editor of The Dangerous Case of Donald Trump which is a compilation of assessments and observations of 27 psychiatrists and mental health experts on the President of the United States and the potential danger he poses.
"He's going to unravel, and we are seeing the signs. From a medical perspective, when we see someone unraveling like this, it's an emergency," Lee told Politico.
Lee acknowledged that she could not make any official diagnosis of the president from afar, but his behavioral patterns are something to worry about. Some patterns she refers to are his Twitter habits and interaction with North Korean leader Kim Jong-un.
On Wednesday, Jan 3, Trump responded to another nuclear missile threat from Jong-un on Twitter. The president tweeted, "Will someone from his depleted and food starved regime please inform him that I too have a Nuclear Button, but it is a much bigger & more powerful one than his, and my Button works!"
"He's very attracted to means of violence as a way of burnishing power," Lee told Politico. Lee commented on his behavior of "going back to conspiracy theories, denying things he has admitted before, his being drawn to violent videos. We feel that the rush of tweeting is an indication of his falling apart under stress. Trump is going to get worse and will become uncontainable with the pressures of the presidency."
In a response to the North Korea tweet, Richard Painter, a former ethics lawyer for President George W. Bush said Trump was "psychologically unfit" for the presidency. On Twitter, Painter wrote, "This tweet alone is grounds for removal from office under the 25th Amendment. This man should not have nukes."
Tony Schwartz, former ghostwriter for Trump, told MSNBC on Nov. 29 that he knew White House staffers who voiced concerns about the president's mental health. Schwartz said, "I know that two different people from the White House, or at least saying they were from the White House, have called somebody I know in the last several weeks to say, 'We are deeply concerned about his mental health.'"
In response to a reporter's question about Trump's mental health on Wednesday, Jan 3, Press Secretary Sarah Huckabee Sanders said, "The people of this country should be concerned about the mental fitness of the leader of North Korea."
It's unclear if this will be the last meeting lawmakers will have with mental health experts regarding the president. The question is whether more Republicans will be on board, or if Democrats will spearhead the intent to impeach Trump on the grounds of the 25th Amendment. Referring to lawmakers, Lee said, "Their level of concern about the president's dangerousness was surprisingly high."