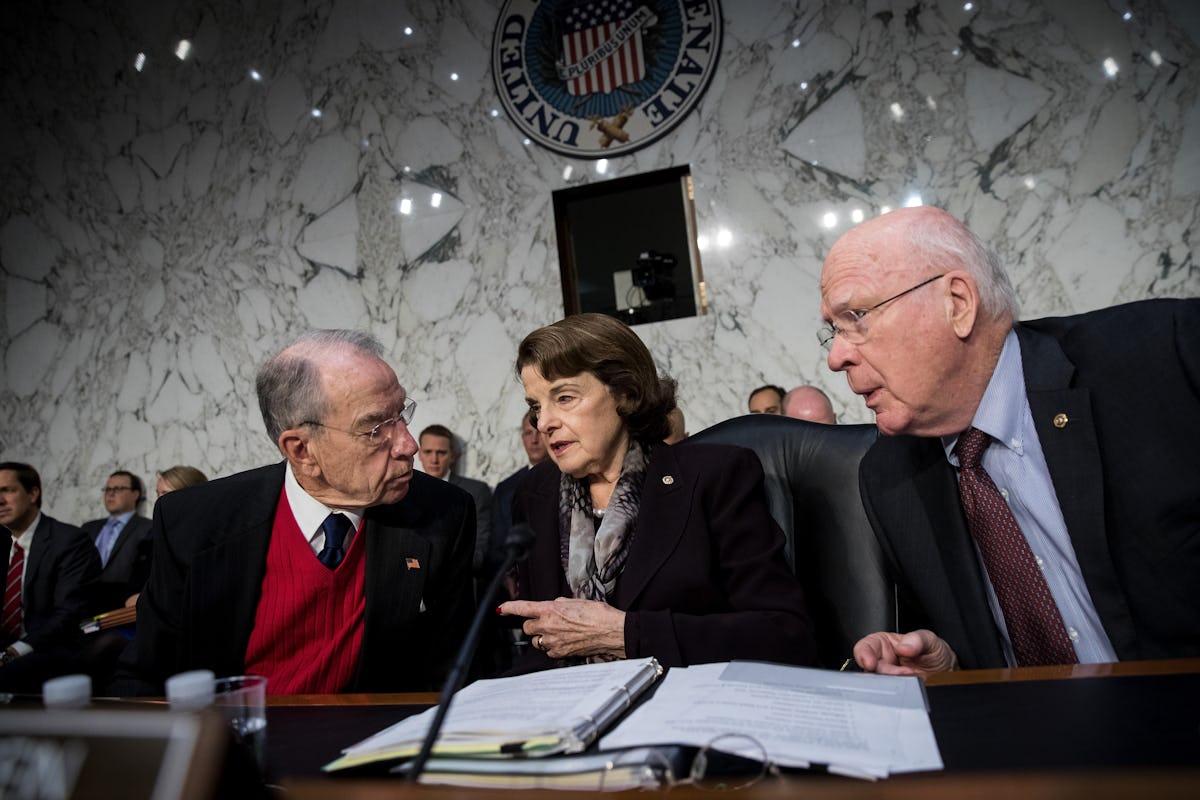 This Is How Democrats Could Prevent A Government Shutdown, & It'll Take Convincing
Drew Angerer/Getty Images News/Getty Images
Dec. 6 marks just two days before our government could go into shutdown mode if Democrats and Senators on the hill still haven't reached a compromise on the spending bill. Republican lawmakers have been revising their version of the spending bill over the past few months, and now they have until Dec. 8 to agree on a funding plan before funding expires, hence causing a government shutdown. As of Oct. 1, Congress has been using a temporary spending bill for the fiscal year, but it is set to expire on Dec. 8. While the Republicans, who dominate Congress, are solely responsible for preventing such a thing to happen, the Democrats can stop a government shutdown if they really want to.
Republicans control the Senate by 52-48, but they need 60 votes to pass this spending bill. That means Republicans need at least 8 Democratic votes on the bill, so Democrats may have more leeway than we're used to.
For instance, with this bill, Democrats have the option to filibuster. This is when a group, usually a minority of Senators, delays or blocks the Senate from voting on a bill by not giving consent to move forward. At that point, a "cloture" vote will happen, deciding whether all Senators can agree to move forward with the bill. If three-fifths of the Senate decide not to vote on cloture, they can stall the voting process on the bill. That would not be a good option to keep the government running, however.
To prevent a shutdown from happening once the temporary bill expires, the Democrats can compromise some items on their list — or force Republicans to compromise.
On Thursday, Dec. 7, Democrats are expected to meet with President Donald Trump at the White House to vocalize their demands on this spending bill. Trump originally had planned to meet with Democrats last week, but Democrats backed out after the president tweeted that he "didn't see a deal" happening.
The Democrats have two important items on their agenda that are likely to be nonnegotiable. First is protecting the Deferred Action for Childhood Arrivals (DACA) program, which Trump originally said would be dismantled. Democrats like Bernie Sanders and Elizabeth Warren have promised not to vote on spending unless the DACA "Dreamers" are protected.
In a joint statement on Monday, Dec. 4, House and Senate Minority Leader Nancy Pelosi and Charles E. Schumer said, "We're glad the White House has reached out and asked for a second meeting. We hope the president will go into this meeting with an open mind, rather than deciding that an agreement can't be reached beforehand."
What is preventing a spending bill from passing is obviously compromise. The other core issue behind this delay, aside from the potential DACA protests, is the U.S. military budget. Republicans, along with President Donald Trump have been pushing for an increase in military spending. In February, Trump proposed to increase the military's budget by $54 million and to cut spending on non-military programs for science, environment, education, and the arts.
But all this work could be complicated by priorities. The Republicans are hoping to pass the tax plan before Christmas, so they get something done in 2017 and don't look bad as majority leaders of Congress.
The Democrats' meeting with Trump on Dec. 7 will be a crucial last move before their time is up. If Democrats can get the president to compromise on issues pertaining to DACA and health care, there might be a deal at hand. Similarly, if Democrats are able to compromise on issues other than DACA that will please Republicans, it may be the greatest holiday gift anyone could ask for.