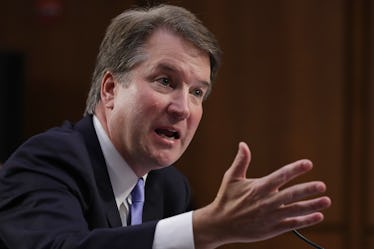 There's Another Way That Brett Kavanaugh Could Be Removed From The Supreme Court
Chip Somodevilla/Getty Images News/Getty Images
President Donald Trump's nominee for the nation's highest court has been in headlines for weeks as he awaits approval by the Senate. Allegations and accusations have roiled the confirmation process, raising talks of whether he'll still go through. But there's another way that the Supreme Court pick might be vulnerable. There's also a possibility that Brett Kavanaugh could be impeached, and it's looking more and more plausible by the day.
Legal expert Barbara Radnofsky, author of A Citizen's Guide To Impeachment, sees the possibility of impeachment as more likely now, she tells me in an interview for Elite Daily, due to allegations of sexual assault against Kavanaugh. To be clear, Radnofsky is not involved in any of the legal proceedings against Kavanaugh. Elite Daily has repeatedly reached out to the White House and Kavanaugh's circuit court office for comment on the allegations, including whether the nomination would be withdrawn, but had not heard back at time of publication. Though most commonly associated with presidents, impeachment applies to all high-level officials. (In fact, federal judges like Kavanaugh have been impeached and convicted before.) But, as of Tuesday, Sept. 18, there have been no serious moves to impeach Kavanaugh.
On Sunday, Sept. 16, Bay Area professor Christine Blasey Ford went public with those allegations, claiming Kavanaugh, intoxicated at a party, attempted to sexually assault her when the two were in high school. Elite Daily reached out to the White House and Kavanaugh's circuit court office for comment on the allegations but had not heard back at time of publication. Kavanaugh, on Friday, Sept. 14, put out a statement denying the incident ever took place, saying, "I categorically and unequivocally deny this allegation. I did not do this back in high school or at any time."
News of the alleged assault came into the public sphere last week via a letter Ford had sent to her representatives in Congress, but her name was only made public in a Washington Post article on Sunday, Sept. 16.
After the Post's more thorough report with Ford's direct account on Sunday, Kavanaugh reiterated his denial, saying: "This is a completely false allegation... Because this never happened, I had no idea who was making this accusation until she identified herself yesterday."
In light of the allegations, Kavanaugh's denials, and statements during his confirmation hearings, he may be vulnerable to impeachment, Radnofsky says. Here's a breakdown of how that might happen.
In terms of grounds, impeachment requires only that Congress deems a high officer as posing a serious risk to the country's wellbeing or security, and that standard is even more stringent for a member of the judicial branch precisely because society holds them to a higher standard. "Congress knows that high standard," Radnofsky says.
In terms of the grounds for impeaching Kavanaugh, the allegations alone are pretty damning for the reason stated above. Should the House decide to impeach him on those grounds, Radnofsky tells me, "The Senate will have a very heavy burden to decide does this undermine the integrity and public's confidence in the judge."
But that's not all that could get Kavanaugh into trouble. Even before the allegations, Kavanaugh was already accused of having lied to the Senate Judiciary Committee during his confirmation hearings on a few different points, which has become its own controversy-laden pandora's box. Elite Daily reached out to the White House for comment on those accusations but did not receive a response at time of publication.
But it's Kavanaugh's denials of these new assault allegations that provide the clearest possible grounds for impeachment. Deceit by a judge in any form could undermine public confidence in the judicial system as a whole (something seen as a risk to the country). So lying, while not a crime, is most definitely grounds for impeachment, Radnofsky says.
"The Senate could choose to not confirm him because of his [alleged] lies, independent of their belief in his past high school misconduct," she tells me in an email for Elite Daily. "Lying in and of itself is impeachable."
Even if he doesn't remember anything that allegedly happened with Ford, "the nature and scope of judge Kavanaugh's denial was absolute," Radnofsky points out. "If [he] cannot remember, he should not have issued his wholesale denial." In other words, saying that it didn't happen and saying he didn't remember it happening, are two different things. By opting to claim the former position, Kavanaugh might have (even inadvertently) lied.
Ford and her lawyer, Debra Katz, reportedly had a polygraph test done in early August, in anticipation that she would be called a liar for coming forward with her story. The results, viewed by the Post, confirmed that she believes her own account.
However, it's unlikely that Congress would move to impeach Kavanaugh based on the assault allegations alone, Radnofsky says. Typically, House members will draft multiple articles of impeachment (think of these as being like individual counts of a crime in a legal case) and submit them together, usually with a "catchall" article that summarizes those collective articles. As of now, there are multiple grounds on which Kavanaugh might be impeachable, she explains, but drawing these to any conclusive point would probably require further evidence and investigation.
Per normal proceedings, Radnofsky says, an investigation would precede any impeachment, so that the House can draft articles based on all available evidence. So any impeachment would likely be down the road a ways.
Even if Kavanaugh is impeached and convicted at some point, it would require a separate vote from Senate after that conviction to bar him from holding office again. So, were he to be removed as a federal judge, he's not necessarily off the table as a SCOTUS nominee, and vice versa.
The allegations against Kavanaugh have slowed down his confirmation process as both he and his accuser are set to testify to the Senate Judiciary Committee on Monday, Sept. 24. As of Sept. 18, the White House has not withdrawn the nomination.
If Kavanaugh is confirmed, the House has a chance to impeach him from the Supreme Court at that point — something that seems much more likely if the Democrats take back the House in November.
But even if Kavaunaugh doesn't end up on the Supreme Court — it's possible his nomination will be withdrawn or he won't get the votes from Senate — Congress could opt to impeach him from his current office given what's come out in the last couple of weeks. "[His] denial — if the witness is credible — would be a huge lie on his part and clearly impeachable from his current office," Radnofsky says, "and if he ascended to the Supreme Court, from that high office."
Impeachment always follows the same process no matter which officer it pertains to: It originates in the House, when members decide to draft and vote on articles of impeachment. If any of those articles (laying out wrongdoing) get through with a majority vote, the case moves to the Senate, which tries it. Two-thirds of the Senate must vote to convict an officer, and unlike with criminal or civil proceedings, this will remove him from office.
To get the votes needed in each house to impeach and then convict Kavanaugh is, again, a long shot. But as Radnofsky points out, impeachment itself often provokes an officer to resign. So if the last week has proven anything, it's this: That Kavanaugh's fate right now is not anything but certain.