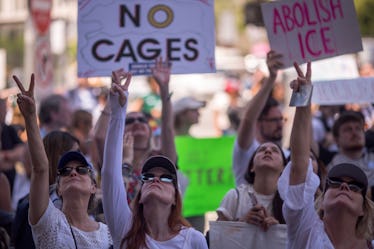 This New Ruling Says Trump Can't Detain Asylum Seekers & It's A Huge Win
David McNew/Getty Images News/Getty Images
On Monday, July 2, a federal judge issued a decision in a crucial victory for immigrants entering the U.S. fleeing danger in their home countries. At issue in Damus v. Nielsen was whether asylum seekers can be detained under federal law while they await a decision as to whether they will be granted asylum. The lawsuit was brought in U.S district court in Washington D.C. in May.
The lead plaintiff in the case, Ansly Damus, came from Haiti to the U.S. in October 2016 fleeing violence and was granted asylum by a judge twice. According to the American Civil Liberties Union (ACLU), though he'd proven he had a safe place to live with a friend and had committed no crimes, he has been held in detention in Ohio for a year and a half by Immigration and Customs Enforcement (ICE) while the government appealed his asylum cases. In his decision Tuesday, Judge James Boasberg held that the government cannot arbitrary detain asylum seekers like Damus.
Representing the plaintiff was a coalition that included the ACLU, Center for Gender and Refugee Studies, Human Rights First, and Covington & Burling LLP. The defendants included Department of Homeland Security Secretary Kirstjen Nielsen and Department of Justice Attorney General Jeff Sessions.
The ACLU held that the practice of detaining asylum seekers indefinitely violated the Fifth Amendment, which grants even non-citizens protection against being arbitrarily imprisoned without due process. The lawsuit sought to grant Damus "humanitarian parole" as opposed to detention, which allows eligible asylum seekers to await their cases without being locked up.
Under federal law, asylum seekers are not supposed to be detained indefinitely. In order to be granted asylum, a person must pass a "credible fear test" via an interview with a U.S. immigration officer. Even if they enter the country illegally, they are entitled to such an interview with immigration officials upon arrival to determine if they can proceed with an asylum case. (Additionally, those who qualify as refugees specifically have further protections under numerous international laws.)
Damus was joined by a group of plaintiffs who, like him, were subjected to detention despite passing credible fear screenings. Beyond the plaintiffs, according to the ACLU, it's estimated that there are another 1,000 asylum seekers who have also been denied parole and are being held at five ICE offices around the country.
"This Opinion does no more than hold the Government accountable to its own policy," Boasberg writes in his 38-page ruling. "To be clear, in finding that injunctive relief is warranted in this case, this Court is simply ordering that Defendants do what they already admit is required — follow the ICE Directive when adjudicating asylum-seekers' detention."
Boasberg adds, "To mandate that ICE provide these baseline procedures to those entering our country – individuals who have often fled violence and persecution to seek safety on our shores – is no great judicial leap."
The decision was seen as a major victory for immigrants fleeing violence and coming to the U.S. to seek asylum.
"Today's decision will have an enormous impact on asylum seekers, who pose no risk, and are currently languishing in detention," said Hardy Vieux, legal director for Human Rights First, per an ACLU statement.
"Important victory in Damus v. Nielsen today: US government must grant parole to asylum seekers who pass credible fear per DHS directive. Can no longer use indefinite detention as a tool," tweeted immigration attorney Prerna P. Lal on Tuesday.
Lal called the decision "a very important step in the right direction," but points out that being granted asylum is easier said than done: "The problem is that the government has also heightened the credible fear standard in recent times, and is improperly making these determinations so as to deport people and deny them a right to a full asylum hearing."
"People fleeing persecution should never be locked away just for asserting this right. Today's decision recognizes that asylum seekers deserve compassion and the protection of our laws, not punishment," said Eunice Lee, co-legal director for the Center for Gender and Refugee Rights, in the ACLU's statement.
In his decision, Judge Boasberg ordered that the government review each of those thousand-plus asylum seekers' cases individually to determine whether they are eligible for humanitarian parole.