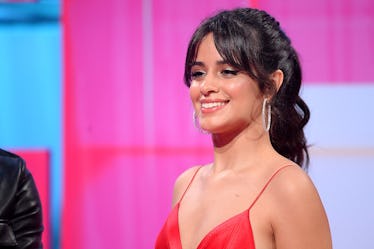 Camila Cabello Opened Up About Her Relationship With Matthew Hussey, & It's So Sweet
Dave J Hogan/Getty Images Entertainment/Getty Images
Camila Cabello has kept things about her relationship with British relationship expert Matthew Hussey pretty quiet — until now. She finally opened up about her relationship in an interview with Marie Claire for its 2018 holiday issue, and what she said about her boo definitely didn't disappoint. Camila Cabello's quotes about Matthew Hussey in her cover story interview were so freaking cute, and I am all for it.
The couple reportedly started dating in February 2018, after meeting on the set of Today. In October, pregnancy rumors began to circulate after the singer posted a picture on Instagram with her hand over her stomach, captioned, "You're still the only thing I did right." However, she quickly shut those rumors down and commented, "Guys don't be crazy. I'VE BEEN TOURING AMERICA EATING DELICIOUS FOODS LEAVE ME AND MY BELLY ALONE!" The couple has been spotted on trips together, kissing backstage at the Billboard Music Awards, and hitting the beach. And now, we finally have verbal confirmation that Cabello is nothing but heart-eye emojis for Hussey.
In the interview, Camila opened up about how she used to have intense stage fright when she was younger. She could never sing in front of people she knew unless there was a door or something blocking her view of them because she was too shy. "Basically, there's the me that I really am, on the inside, which is the nerdy one — the kind of introverted, shy one — and then there's the sexy, overly confident one, doing great dance moves and being super sassy," she told Marie Claire. With Hussey, she said she can be the person she really is. "He's so similar to me. In person, we're just weird and silly and stupid together," she revealed. And because they are so similar and click so well, Camila couldn't help but admit that, "He makes me the happiest I've ever been in my life."
Even though she feels like she's really herself with him, that doesn't stop the butterflies from flooding over her whenever he goes to any of her shows. "Any time he's there, I get super nervous. I stutter or my hands are shaky," she confessed in the interview. How cute is that?! But him being at her shows isn't the only thing that makes her nervous; talking about him does, too. "It's annoying, because we've been together for kind of like a long time now, but every time, I'm like, 'Oh my god, I have to talk now,'" she said.
In the interview, the "Havana" singer also touched on how important her family's approval of Matthew was because they're so close-knit. "I'm super attached to my family," she said.
Being Cuban myself, I especially resonate with Camila because of her heritage. My brothers and I are first-generation, so whenever I see a Cuban-American thriving in any industry, it hits home for me. And it's been quite the year for Camila! She won four awards at the AMAs in October, and Artist and Video of the Year at the MTV VMAs in August. Not to mention, she seems over the moon with her new relationship. Here's to many more successes hopefully coming her way.