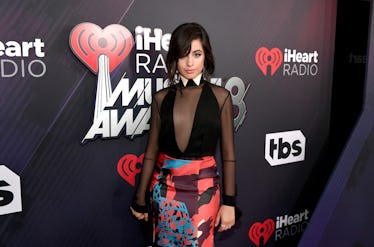 You'll Love This New Spin On A Classic From Camila Cabello's iHeartRadio Performance
Neilson Barnard/Getty Images Entertainment/Getty Images
Camila Cabello is a having quite a year. She just turned 21 last Tuesday, she has two monster hits from her first solo album, Camila, "Crying In The Club" and "Havana," and she's proving Simon Cowell was wrong about her all those years ago in 2012. She didn't need a girl group like Fifth Harmony in order to have a career. She was a perfectly viable solo artist on her own, she just needed a couple of years to get there. And now Camila Cabello's 2018 iHeartRadio Music Awards performance has cemented her as part of pop music's current A-List crowd.
But we knew that even before tonight's performance. It was revealed only a couple of weeks ago that Cabello is also booked to be one of the opening acts on one of the hottest tickets this coming summer, Taylor Swift's Reputation tour. Before that, she was getting profiled in the New York Times as one of the biggest up and comers of 2018, after her debut album hit Number One in the US Billboard charts upon release, and her single "Havana" reached the same on the Billboard Hot 100 at the end of January. It's a revenge served cold as her former Fifth Harmony pals receive reviews on their third album that it's "a step down" from their previous work, and has yet to chart a single in the Top Ten.
Meanwhile, Cabello is doing this:
Nice update on the Marilyn Monroe classic "Diamonds Are A Girls Best Friend" number, by the way. Apparently, Camila is wearing a custom Walter Mendez pink satin strapless gown with high slit and detachable satin bow and matching boots.
Camila's debut at Number One was not guaranteed though. She maybe the first major star to break away from a girl group since Beyoncé, but Bey did it in 2006 when the music industry was still on stronger footing. Tom Poleman, the chief programming officer for iHeartRadio's parent company, iHeartMedia, told The New York Times that no matter when and where a star does it, it's never easy. Camila just makes it look that way.
It's not easy for anybody, regardless of your starting point. The field is so competitive that you really need the planets to align.
This year's iHeartRadio Awards are for the music released during the year 2017, from January to December. (This makes them markedly different from the Grammys and the American Music Awards, both of which award based on an offset quarterly release calendar. The Grammys runs from Oct. 1 of one year to Sept. 30th of the next, while the AMAs are from mid-September of one year to mid-September of the next.) Unfortunately for Cabello, this means that none of her songs are eligible, as her self-titled debut album did not actually hit stores until Jan. 12, 2018.
But she is nominated for Best New Pop Artist, against other up and comers like Julia Michaels, Liam Payne, Logic, and Niall Horan. The iHeartRadio Awards are also a fan-voted contest, so unlike the Grammys, there isn't a set of voters that are made up of mostly old and out of touch music industry insiders. It's all about mobilizing online fans. Considering how well Fifth Harmony did that over the last few years, the part of the fanbase that carried over to Camila's camp is certain to be highly motivated to see her take home the award.
They're also motivated to take home the award for themselves. The advent of fanbases on social media propelling their chosen pop stars to chart heights they might otherwise have only dreamed of has not been lost on the iHeartRadio brass. The "Best Fan Army" nominees for this year contain some of the groups of fans you would expect to see on such a list: the Arianators, the Beliebers, the BTS Army, the Lovatics and the fans of Camila's old group, the Harmonizers. But the Camilizers are apparently considered strong enough to stand on their own, and also earned a nomination. May the Best Fan Army win!