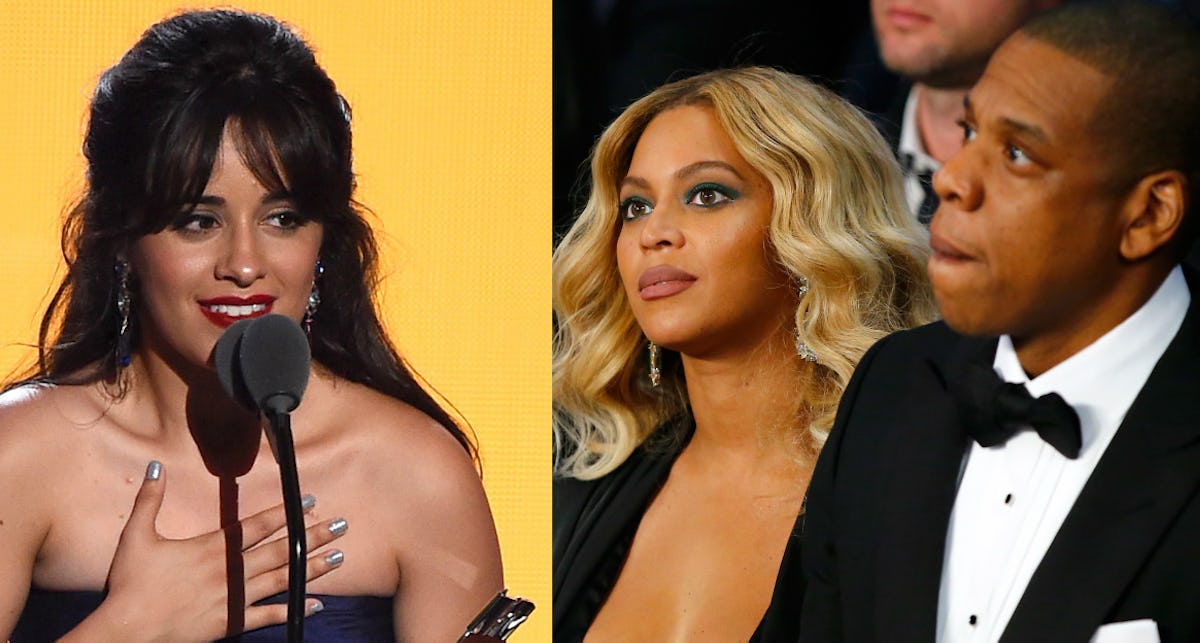 Beyoncé & JAY-Z Fans Are Upset After The VMAs Snubbed Them For This Big Award
Theo Wargo/Getty Images Entertainment/Getty Images/Al Bello/Getty Images Sport/Getty Images
GUYS. The music industry's biggest moment of the year has finally taken place, because the Video of the Year has been awarded. There have been tons of creative, thought-provoking, and entertaining videos that have been released throughout the past 12 months, but one artist took the cake. Camila Cabello won the 2018 VMA for Video of the Year for her song, "Havana." I'm really happy for her — but apparently, other people aren't.
The standards were extremely high this year when it came to the Video of the Year award — and personally, I think all of the nominees deserved it. Even so, there had to be one winner, and Cabello's video for "Havana" was definitely impressive. In fact, I think I've watched it at least 100 times since it was released. If you haven't seen it, let me give you a rundown. The winning video was inspired by Cabello's family, and shows a version of the singer starring in a movie that she's watching on the big screen in real life. It's kinda meta, and it's really awesome.
The other nominees for Video of the Year included Ariana Grande for "No Tears Left to Cry," Bruno Mars ft. Cardi B for "Finesse (Remix)," Camila Cabello ft. Young Thug for "Havana," The Carters for "APES**T," Childish Gambino for "This Is America," and Drake for "God's Plan." Of course, people are a little upset that The Carters didn't take home the Moonman.
Still, Cabello's music video is super impressive and absolutely worthy of an award. If you haven't seen it yet, check it out below:
See? It was totally worth of Video of the Year, and I can't wait to see what else this artist comes out with in 2019. Whatever it may be, hopefully it'll be nominated for another Moonman in the next VMAs.
Before we can talk about the 2019 VMAs, let's talk about what happened this year. To start, there was an extensive list of talented performers, both during the pre-show and the main show. During the VMAs pre-show, musicians including The Backstreet Boys, Bazzi, and Bryce Vine wooed the crowd with their musical talent. (As a '90s kid, The Backstreet Boys were obviously my favorite. If there was an award for nostalgia, I'd give it to them.)
The main show was also packed with an impressive roster of performers. They included Nicki Minaj, Ariana Grande, Shawn Mendes (swoon), Logic, Travis Scott, Post Malone, Panic! at the Disco, and Maluma. Between all of the performances so far, it's definitely been a night to remember, don't you think? I know for a fact I'm going to be watching everyone's sets on repeat after the show ends.
If you're planning on re-watching everyone's performances, too, don't forget to give the winning music video a few views. Cabello's video is obviously worth watching on repeat, so go ahead and binge watch it. Like I said, hopefully she releases another award-winning video in the near future. Until then, fans will have to be content and wait patiently for the next hit song (er, I mean, video) to be released.