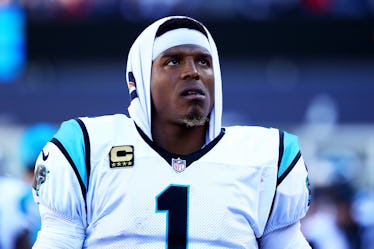 Cam Newton Made A Sexist Remark To A Female Reporter — And Then The Race Conversation Happened
Maddie Meyer/Getty Images Sport/Getty Images
It's game day: Cam Newton vs. reporter — and I'm on no one's team. Newton is the Carolina Panthers' quarterback, and Jourdan Rodrigue is a reporter who covers the team for the Charlotte Observer. During a press conference on Wednesday, Oct. 4, Rodrigue asked Newton a question about the physicality of his teammate's routes. Newton immediately replied, "It's funny to hear a female talk about routes like that. It's funny." The joke, presumably, is that women are uninterested in football and incapable of discussing the sport with specificity (or at best, less interested and capable than men). And despite Cam Newton's obviously sexist comment, the topic of race was soon brought into the conversation — and into the Twitter firestorm.
UPDATE: Cam Newton issued a public apology for his comments to Rodrigue in the form a video posted to his Twitter page on the night of Oct. 5, 2017, after this article was published. The video is embedded in full below.
EARLIER: The NFL has since released a comment on the situation. Panthers spokesperson, Steven Drummond said, "I have spoken with Jourdan and Cam and I know they had a conversation where he expressed regret for using those words. We strive as a department to make the environment for media comfortable to everyone covering the team." NFL spokesman Brian McCarthy also commented, saying, "The comments are just plain wrong and disrespectful to the exceptional female reporters and all journalists who cover our league. They do not reflect the thinking of the league."
Even though women make up nearly half of the NFL's viewership, and the woman who posed the question talks about football for a living, for Newton, it was amusing to see Rodrigue simply do her job. So, obviously we should all rally around Rodrigue, right? Well, not so fast.
Following the controversy, freelance journalist Torraine Walker soon identified multiple culturally insensitive tweets by Jourdan Rodrigue, including one outright racist tweet where she casually uses the n-word. Rodrigue has since addressed her comments online on her Twitter account, saying, "I apologize for the offensive tweets from my Twitter account from 4/5 years ago. There is no excuse for these tweets and the sentiment behind them. I am deeply sorry and apologize."
Many people have now used Rodrigue's tweets to argue that it was her, not Cam Newton, in the wrong. This argument is unsatisfactory, and I say this without offering any absolution to Rodrigue.
Rodrigue's tweets are clearly racist, but they are independent of Newton's comments during the press conference. I highly doubt that Newton was aware of her racist remarks and bizarrely decided to seek justice by making a sexist quip. By the same token, Newton's statement is completely separate from Rodrigue's racist tweets; she has no defense. Both Newton and Rodrigue can be in the wrong, and in this case, both of them are.
It is an oversimplification to think we have to be Team Cam or Team Rodrigue — and it's one we have seen before. A useful analogy is Donald Trump's attacks on journalist Megyn Kelly. During the presidential campaign, Donald Trump made numerous degrading and sexist remarks about conservative darling Megyn Kelly, most famously stating that her questioning of him indicated she had "blood coming out of her wherever."
Let's be real: Megyn Kelly isn't without her flaws. But people flocked to support not just the cause of anti-sexism, but Megyn Kelly herself, out of the mistaken belief that to be anti-Donald Trump meant being pro-Megyn Kelly. This is the same woman who forcefully argued on a televised news program that Santa Claus and Jesus are both white. Kelly has also come under criticism for giving a platform to alt-right conspiracy theorist, Alex Jones, by interviewing him on her show, and for ignoring the Black Lives Matter movement and saying multiple times, "all lives matter." Her own problematic views do not make Donald Trump's remarks any less sexist, and we should be able to call them sexist without erasing Megyn Kelly's history of offensive comments. We don't have to praise her in order to acknowledge that the statements made about her support the structural oppression of women.
Similarly, I am not proposing we elevate Jourdan Rodrigue. We can, and should, be critical of Rodrigue's racist tweets. But this should not prevent us from being able to identify Newton's belittling of Rodrigue as sexist. Every victim of sexism is not by definition a feminist cultural icon, but why should that prevent us from calling out sexist behavior? Her mistakes do not excuse his. Dismissing Newton's remarks and valorizing Jourdan Rodrigue would both be inappropriate reactions to this controversy. To try to make multiple points at the same time ignores what Newton originally came under fire for: the sexist comments.
It wasn't long before viewers who saw both Newton's remarks on women and Rodrigue's past racist tweets engaged in a debate of their own on Twitter.
Twitter Was Quick To React
People took to Twitter to express their concerns — and unfortunately amusement — with the controversy.
Oikos yogurt, which had a previous sponsorship deal with Newton, also quickly announced that it was dropping their deal after the sexist comments came to light.
Though we already had sexism and racism at play in this situation, some Twitter users then pointed out the hypocrisy in holding an NFL player to a higher standard than our current president, Donald Trump. Cam Newton is a black man who holds no public office and is losing sponsorship money for something he said, while a white man who brags about sexual assault can be president without so much as an apology demanded. But, that being said, we need to raise our standards for the White House -- not lower our standards for everyone else. And again, we are capable of recognizing more than one wrong at a time. Welcome to 2017, everyone. Our issues come in layers.
There was definitely a good amount of Twitter users who didn't feel the need to pick a side, and addressed Newton's sexist remarks independently.
We have a natural impulse to pick a side, or to think that there must be one team that is right and one team that is wrong, but situations are often more nuanced. In this case, I support neither Team Cam nor Team Rodrigue, and you don't have to, either.
Instead, support the communities — women and black people — that the comments made by both Newton and Rodrigue disparage and marginalize. Not everything requires a "one or the other" mentality. That's what limits our progress in the first place.