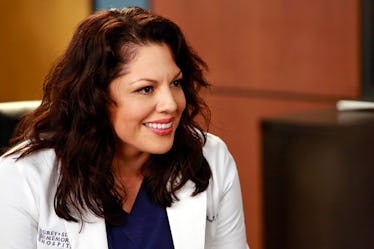 Callie Almost Returned To 'Grey's Anatomy,' But Sara Ramirez Couldn't Make It Happen
ABC
After a season's worth of speculation about how Arizona Robbins would exit the series, Jessica Capshaw's longtime Grey's Anatomy character finally set off to life in New York, where she would open a women's health center with her mentor Nicole and inevitably see more of her ex-wife Callie. Arizona's original motive behind the move was for their daughter to have both mothers nearby, but the end of Season 14 could have contained a way more romantic reunion than April and Matthew's. Callie almost returned to Grey's Anatomy, but according to creator Shonda Rhimes, Sara Ramirez's newest job didn't allow it to happen.
After leaving the series in the Season 12 finale, Ramirez ended up on the CBS series Madam Secretary in 2017 as political strategist Kat Sandoval. Her Grey's Anatomy exit came after Callie and Arizona cemented themselves as one of the most prominent LGBTQ relationships on TV, first meeting in Season 5 and getting married at the end of Season 7. The couple split in the show's eleventh season, paving the way for Callie's eventual move to New York and the two women shipping their daughter Sofia back and forth between the West and East Coasts. Although she has been mentioned, Callie hasn't appeared on the show since her cross-country move.
While this year of Grey's Anatomy ended with Arizona and Callie exchanging flirty texts and hinting at rekindling their romance, an ideal world would have included Callie physically seeing Arizona again, but Ramirez's Madam Secretary commitments seem to have prevented that from happening. In a recent Instagram Story Q&A, Rhimes revealed to a fan missing Callie that she and her team tried to arrange for Ramirez to make a comeback, saying:
Let me tell you something — we tried. CBS has a hold of her. Because she's on [Madam Secretary] And we can't get her. But we love her. Always. This is her home. Come home, Callie.
While TVLine reports that a source at CBS claims that no one from ABC or Grey's Anatomy reached out about Ramirez returning, perhaps another character will fill us in about any kind of relationship status between Callie and Arizona when Season 15 begins. The chance of seeing Callie onscreen again greatly diminished once Arizona hung up her scrubs, but Rhimes has hopes about other old characters returning to the series.
In addition to low-key shading any fans worrying about future Grey's Anatomy deaths (showrunner Krista Vernoff is in charge of characters' fates now, and Rhimes doesn't write the show anymore), Rhimes spilled that she'd love for Kate Walsh's Addison Forbes Montgomery to return. The OB/GYN and Derek Shepherd's ex-wife inspired Grey's Anatomy's first spinoff series, Private Practice, which ended in 2013 after six seasons. Aw, remember when ABC's TGIT block was just a little fledgling?
When we last saw her, Addison had just married infertility specialist Jake and began a new life with him and her son Henry. Now that it's been more than five years since Shondaland checked in with her, she's due for a visit, but Rhimes also said that 13 Reasons Why star Walsh has been too busy to stop by. Gosh, all these actresses going off and having thriving careers — remember where you came from, ladies! (JK, go and shine like the beautiful stars you are).
Calzona may never appear on our TV screens again, but knowing that those two are likely canoodling in New York together makes that burn a little better. Season 15 of Grey's Anatomy premieres on Thursday, Sept. 27, at 8 p.m. ET on ABC.