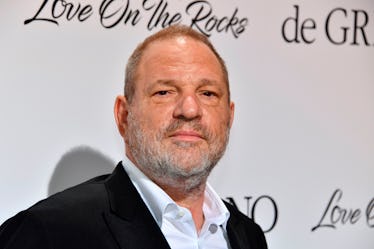 California Lawmakers Are Working On Sexual Harassment Laws Post-Weinstein Allegations
YANN COATSALIOU/AFP/Getty Images
The #MeToo movement that has galvanized women across the country to speak up about sexual harassment stories and has now made its way to women in politics. Because the movement has landed in the hands of policy makers, there's a chance California sexual harassment laws may change in light of the allegations of sexual misconduct made against Hollywood producer Harvey Weinstein (he has since denied the allegations). Women in legislation are not only coming forward with personal stories, but with proposals of new policy to counteract the secrecy of sexual harassment.
On Wednesday, Oct. 18, California state Senator Connie Leyva told Variety she plans to introduce legislation in 2018 that prevents sexual harassment cases from being secret. This would ban the type of court settlements like those of Weinstein and Fox News anchor Bill O'Reilly, who both settled allegations of sexual misconduct by paying women off and requiring them to sign nondisclosure agreements, so they would no longer be able to talk about it because of confidentiality. Weinstein paid out at least eight women in court, and O'Reilly settled allegations with five women for $13 million, according to the New York Times.
"We really need to remove the curtain of secrecy about what's happening," Levya said to Variety. "Ultimately that's what hurts victims and enables perpetrators to continue to do this and remain hidden." Levya says the new law, "might actually be able to help some of these survivors."
Leyva also successfully eliminated the statute of limitations on rape last year, in response to the Bill Cosby allegations. The new law applies to crimes committed after January 1, 2017, and now allows for anyone to be prosecuted for sex crimes, no matter how much time has passed since the crime occurred.
The lawmaker does not have a draft of the bill yet, but says she expects it to be widely supported by the California State Capitol, according to Variety.
Levya is right to anticipate support from others in politics, considering over 140 women, including legislators, Capitol staff, consultants, and lobbyists signed an open letter on Monday Oct. 16, obtained by the Los Angeles Times, that denounces the "pervasive" culture they said degrades women in their industry. The letter reads,
As women leaders in politics, in a state that postures itself as a leader in justice and equality, you might assume our experience has been different. It has not. Each of us has endured, or witnessed or worked with women who have experienced some form of dehumanizing behavior by men in power in our workplaces. Men have groped and touched us without our consent, made inappropriate comments about our bodies and our abilities. Why didn't we speak out? Sometimes out of fear. Sometimes out of shame. Often these men hold our professional fates in their hands.
The original website of signatures was created by Adama Iwu, a lobbyist for Visa who started the campaign to expose harassment, according to CNN. The website, "We Said Enough," invites women to tell their stories of harassment, anonymously or publicly. "It becomes a summer camp-like atmosphere," Iwu said. "It's difficult to create boundaries when these men are basically your co-workers, having breakfast, lunch and dinner with you."
Cristina Garcia, a Democratic member of the state Assembly, also signed the letter, writing, "Multiple people have grabbed my butt and grabbed my breasts. We're talking about senior lobbyists and lawmakers."
While some men in the California State Capitol are reportedly nervous about being outed, Iwu said the "We Said Enough" movement was not meant to "out" men, but to start to change sexual harassment culture, according to CNN. "It is not the job of the victim to come forward and be further victimized, because we know that happens," Iwu said. "Why is it always on the women to change things?"
The early months of 2018 will be telling for this possible shift in secrecy of sexual harassment cases and could potentially pave the way for more strides in this movement in terms of policy.
"I hope that we are finally at a point in our society to say, enough is enough," Levya said. "We need to make sure that women understand we are going to have each other's back."