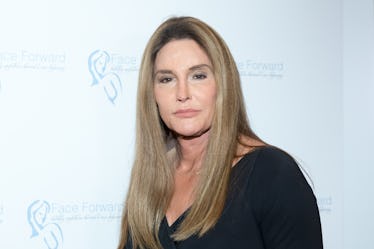 Caitlyn Jenner's Tweet About Trans Rights Is Taking Aim At Donald Trump
Greg Doherty/Getty Images Entertainment/Getty Images
On Sunday, Oct. 21, The New York Times reported that the Trump administration is "seriously" considering a change that would affect trans rights. A leaked memo from the Department of Health and Human Services (HHS) reportedly indicated that the administration would move to define gender as "unchangeable" based on a person's sex organs at birth. And now, with the trans community being at risk under the proposal, it's attracting some serious backlash. A spokesperson for HHS said in a statement to Elite Daily that the department does not comment on "alleged, leaked documents that purport to indicate the status of deliberations or the focus of the department." Caitlyn Jenner is just one of many people who are outraged over the move, but Caitlyn Jenner's tweet about trans rights is directly calling out the president.
Jenner, a Republican who once posted messages praising Trump and voted for him, took to Twitter on Monday, Oct. 22 to take a swipe at him. She posted an image that has the phrase "TRANS PEOPLE WON'T BE ERASED" repeated across it in bold letters, with the colors of the transgender flag making up the background. Jenner then tagged the president in the tweet directly. Although she didn't include a caption, her point definitely seems loud and clear and shows that she's ready to fight back against the proposal. Here's what Jenner posted:
Elite Daily reached out to a representative of Jenner for additional comment, but did not immediately hear back.
The New York Times reported on Sunday that the Trump administration is drafting a policy to create a uniform definition of sex under Title IX, which mandates sex equality in education. According to a leaked HHS memo obtained by the Times, the policy would require a person "be defined as male or female based on their genitalia at birth." If implemented, the policy could have serious effects on transgender and non-binary people's protection from discrimination, as well as their ability to be legally recognized under their gender identity.
HHS tells Elite Daily via email that the department does "not comment on alleged, leaked documents" and referred to the definition of "sex" under Title IX as promoted by the Obama administration. The statement reads in part,
The Obama administration's broad definition of 'sex' was enjoined by a federal court on a nationwide basis in December 2016 and the Obama administration did not appeal. That court found that the Obama administration regulation was overbroad and inconsistent with the text of the 1972 Title IX law prohibiting discrimination on the basis of sex. The court order remains in full force and effect today and HHS is bound by it as we continue to review the issue.
It added that "everyone deserves to be treated with respect" and HHS would enforce all laws regarding discrimination as "written and passed by Congress."
Despite her initial support, in recent months, Jenner has become a frequent critic of Trump. In August, the former Olympian, who came out as transgender in 2015, told Variety that Trump's efforts on transgender issues have been "extremely disappointing" and that he has "not been doing a very good job." When the outlet asked what she would tell the president if they met face-to-face, Jenner retorted, "Get over it!"
In March, she echoed similar comments to Newsweek, telling the outlet that Trump's administration has been the "worst" thing to happen to the transgender community. "They've set our community back 20 years, easily," Jenner declared. "It's going to be hard to change, but we've been through these types of things before and we'll continue to fight it."
She was also critical of him in February 2017, after he ordered the reversal of a policy that allowed transgender students to use the restroom of their choice. In a tweet, Jenner wrote that she viewed the move as a "disaster" and reminded him that he "promised to protect the LGBTQ community."
"Call me," Jenner pleaded.
Perhaps Jenner's proposed chat could be a good idea. Maybe she could have something influential to say to get things back on track. At least, it's worth trying.