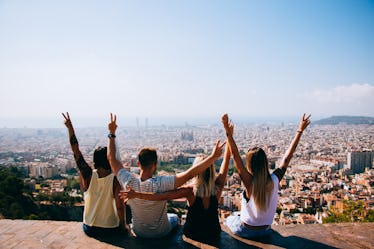 You & Your BFFs Can Explore Europe For Free This Summer, Thanks To This Dream Job
Do you dream of dropping everything, traveling to someplace on your bucket list, and documenting all of your adventures on social media? Well, Busabout is sending four people on an epic three-month trip across Europe this summer. It's pretty difficult not to get a little salty when you see those people on Instagram who seem to be on a never-ending vacation. Busabout is looking for an "Ultimate Travel Squad," so you could get a taste of that sweet wanderlust life if you secure this dream job.
According to its website, Busabout is a travel company that creates unique group adventures in Europe, Asia, and Africa. Basically, they'll handle all of the not-so-fun parts of trip planning so you can focus on having the time of your life. How awesome is that?
The company is seeking a crew who's very passionate about social media and traveling to send on a free trip throughout Europe. Is this even real life right now? Yes, it is! Clear your summer calendar and grab your video camera to get started on the application.
Elite Daily reached out to André Oliveira, Busabout's content marketing executive, to see what it takes to land this dream job.
You might be wondering what the catch is. Well, this isn't the first time Busabout ran a contest like this. According to PR Newswire, Busabout held a contest similar to this one last year, where it chose a team of two to take on the roles of video producer and brand ambassador.
The travel company was able to see great success in reaching its ideal audience in a very different way than it had in the past. So, it's doing it all over again with a new and improved contest! Oliveira tells Elite Daily,
The main benefit that came from creating a direct link between our audience and Leanne (last year's winner) was that our audience was able to reach out directly to her (via our channels) if they had questions about the brand or the product. It also allowed us to show a number of our products in a way that would otherwise be very difficult.
Oliveira continues,
Despite being somewhat similar, this year's contest has a different premise. This time around we want to put together a group of four people — The Ultimate Travel Squad — who will be taking over our social media channels for the duration of their trip. In a way, it's bigger and better!
We've all seen those Instagram-famous spots on our feed that have filled us with so much wanderlust, and companies want to tap into that. Last year's contest, along with the current Instagram feed, proved to Busabout just how much power social media has in determining where millennials are choosing to travel. Oliveira reveals,
Social media — mainly Instagram — has been doing a great job of painting this very romantic picture of traveling! We have noticed that a lot of our passengers are drawn to off-the-beaten-path destinations (like Hop-on Hop-off's Lauterbrunnen in Switzerland) just from seeing an image we have posted. They want to see just about as much as to be seen, and that plays a decisive factor in what destinations they pick.
The chosen Travel Squad will get the chance to cover some of Europe's biggest bucket list destinations with Busabout's Hop-on Hop-off pass. Travelers can purchase this pass to experience the social atmosphere of Busabout tours without being tied to a specific schedule. Oliveira tells Elite Daily all about the Hop-on Hop-off pass,
Hop-on Hop-off is unique in its approach to travel by offering the best of both worlds: you have the flexibility of independent traveling and the social atmosphere of a guided tour. The award-winning Hop-on Hop-off network currently covers 47 of the best destinations across 15 European countries. You can choose when you go and how long you stay, safe in the knowledge a new bus departs every second day. More importantly, though, you will be traveling with like-minded people and will go home with a lot of new friends and epic memories. Just the way travel should be.
The winner will get the chance to hit up Europe's dreamiest destinations — including eating crepes under the iconic Eiffel Tower in Paris and surfing in San Sebastian, Spain. Basically, you'll be giving the rest of us some serious FOMO as you visit some of Europe's most exquisite spots.
In reality though, this is no free pass. The company is looking for people who can truly bring their adventures to life — so you're going to have to put in the work. You have to be ready to update YouTube, Instagram, Snapchat, or blog readers with what's happening and where. Oliveira says,
We're looking for engaging storytellers with creative minds and a natural ability to stick to a schedule. Being addicted to travel and a social media junkie helps too, of course!
Don't worry, though — you'll be able to reap the benefits of one of the most sought-after jobs in the world. Oliveira tells Elite Daily,
To be honest with you, our main goal is to ensure that the four winners have a great Busabout experience while out on their three-month Hop-on Hop-off adventure. We believe that the best way to promote our product is precisely by showing our passengers having a great time experiencing it.
Wait! Before you rule yourself out, you should know that don't need to be a social media influencer to win this contest. Oliveira says,
We're not necessarily looking for people with huge followings so the position really is open to anyone — don't let that put you off. If you love travel and social media, grab a camera and lets us know why you're perfect for the job!
Whether you've got 200 followers or 200,000 — you have a chance. You just need to have a passion for creating content on whichever platform (Instagram, YouTube, Blogging, or Snapchat/Instagram Stories) you apply for.
To apply, Busabout is asking candidates to upload a one-minute video sharing why they'd make the perfect travel squad. You can apply as an individual or a group before April 17.
Good luck! I'll be living vicariously through the lucky winners!