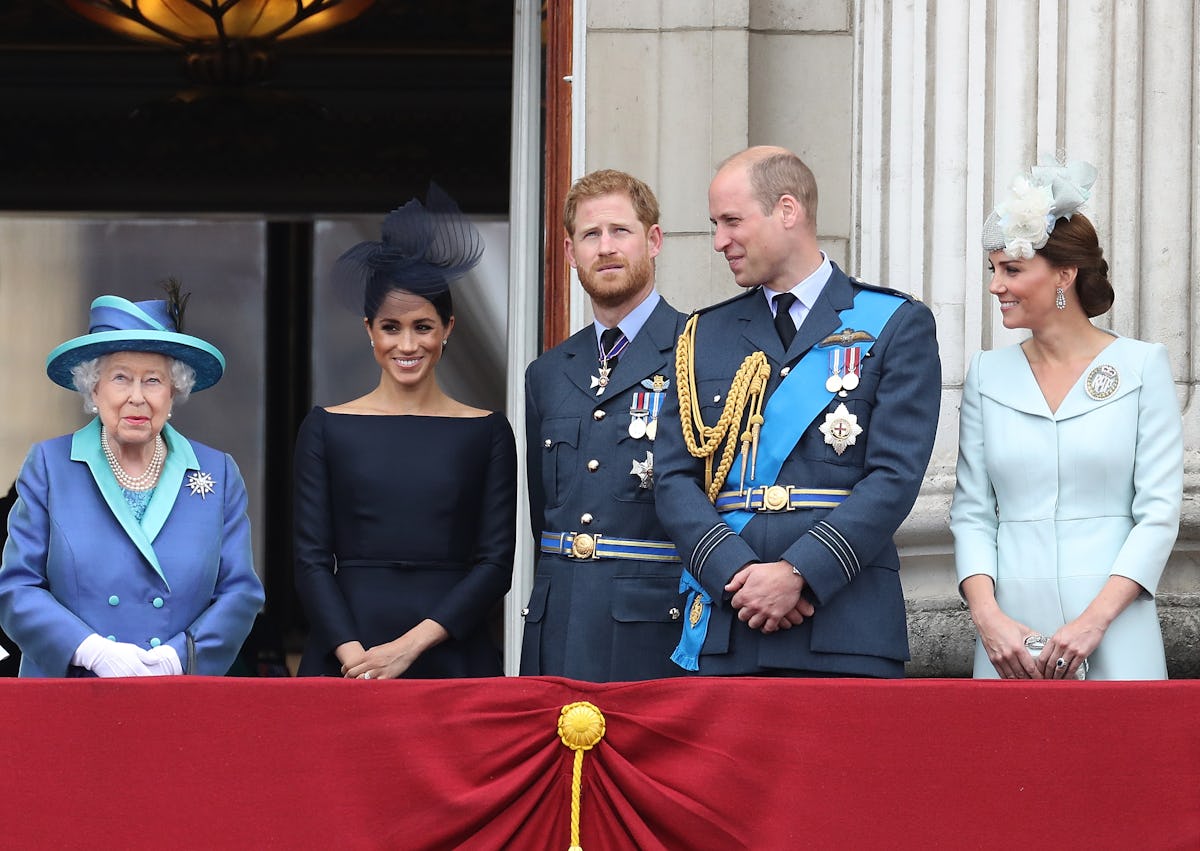 Buckingham Palace Is Hiring, So This Is Your Chance To Live With The Royals
Chris Jackson/Getty Images Entertainment/Getty Images
If you've ever dreamed about sipping tea with Meghan Markle and Kate Middleton, or maybe even rubbing shoulders with Queen Elizabeth herself, a royal job position has opened up that's sure to tickle your fancy. That's right, Buckingham Palace is hiring a sous chef to cook for the royal family, and the full-time post includes living accommodations at *gasp* the most royal of residences, Buckingham Palace. Unfortunately, applications close in less than two weeks on Oct. 19, so you're going to want to get cooking on your resumé ASAP so that you can start living your best fairytale life and becoming BFFs with the Queen (OK, maybe that's a tall order, but a person can dream).
Per a job posting shared by the Royal Household, Queen Elizabeth is in the market for an "experienced and qualified Chef with a background in premier catering" to take on the role of sous chef at Buckingham Palace. The applicant will work alongside the Head Chef to plan and execute menu items as well as to lead and motivate the rest of the kitchen staff. Unfortunately, from the sounds of the post, amateurs needs not apply (it is the Queen, after all), and the successful applicant will have training in classical French cuisine, great leadership skills, and extensive experience with catering for large groups of people. Considering that everyone from visiting foreign dignitaries and presidents to celebrities and athletes come to dine with Queen Elizabeth at Buckingham Palace, the palace will be relying on their sous chef to make sure that things run smoothly.
"Strong leadership skills will be absolutely vital," the job description reads. "It's essential that you can plan, organize and delegate effectively, and also that you can motivate and develop those around you." In addition, the sous chef "must be able to follow up-to-date catering legislative requirements," so you're more likely to be successful if you know your way around the industry.
If you're able to check off these requirements with ease, there are several perks that will make you want to hand in your two weeks and get on a plane to London. Not only is the full-time role based in London (which comes with 33 days holiday, a full benefits package, and a 15 percent employer contribution pension scheme), but the sous chef will also have the option to live inside Buckingham Palace with all meals provided. Granted, there is a salary adjustment for that option, but something tells me there's definitely a chance you could become tight with Britain's long-reigning monarch after a few months.
In addition to working and residing at Buckingham Palace, the successful candidate will also travel "to other Royal residences," so it's likely that you'll be getting cozy with the royals while prepping food for Prince Harry and Meghan Markle as well as Prince William and Kate Middleton during the course of your employment.
While no specific salary is listed, the posting also states that "in an environment where development and training is commonplace, you'll be supported to grow within your role, developing both your managerial and technical cookery skills." As training and further development is encouraged, you'll also have "access to a range of recreational facilities."
Again, the application form for this royal gig closes promptly on Oct. 19, so I'd start brushing up your resume and your curtseys in the coming days.