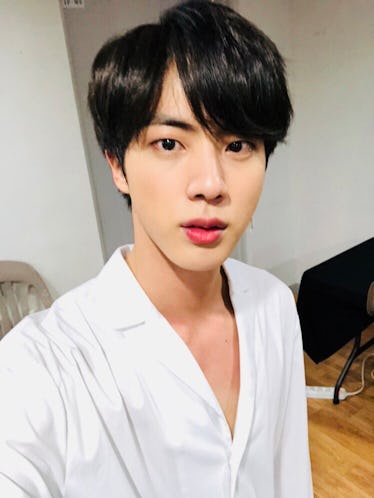 BTS' Birthday Messages For Jin Show Just How Much They Love Him
Twitter/BTS_twt
When it comes to celebrating birthdays, BTS means business. In honor of their oldest member, Jin's, birthday, BTS has taken to Twitter to express just how much they love him and everything he brings to the group. BTS' tweets for Jin's birthday show that everyone in the group is full of nothing but love for him!
Jin, whose full name is Kim Seok Jin, was born on Dec. 4, 1992. So, that makes him 26 now. And BTS' members are making sure the world knows just how loved and respected Jin is through their official Twitter account.
"Our eldest hyung, our eldest hyung whom we love, I sincerely wish you happy birthday," Jimin wrote in one tweet according to a fan translation.
RM wrote, "I'm revealing a masterpiece," along with a bunch of photos of Jin making funny faces.
Suga shared a video of their joint fishing session that they went on after they went fishing together during the third season of their VLive show, Bon Voyage in Malta.
And that was really just the start of what's become a bit of a movement on Twitter. As you probably know by now, BTS fans are wildly passionate and will do just about anything to make sure their love of the group is known worldwide. And they're doing just that for Jin on his special day.
But first, check out all the boys' tweets for Jins' birthday in all their glory:
BTS fans — or ARMY, I should say — made sure to join in on the birthday fun. They took over Twitter for Jin's birthday and they did so with a hashtag, #OnDecember4AStarWasBorn, that's trending right now. The hashtag is super clever and definitely shows the fans' enthusiasm for Jin and his birthday. Have a look down below at what fans are tweeting for Jin's birthday.
Some messages for Jin were relatively simple, like this one:
Others were a bit more sentimental:
And some were just downright hilarious, like this one:
Those are just a few among thousands, but everyone had a special way of sharing their love for Jin.
And Jin seems to have really taken all those messages to heart. In fact, there were so many people who wished (and are still wishing) Jin a happy birthday that it's impossible to keep up!
Since Jin couldn't thank everyone individually, he decided to release a really sweet statement expressing his gratitude for all the happy wishes on his birthday.
You can check out Jin's thank you note down below:
Here's part of what he wrote, as translated by a fan on Twitter:
Everyone, hello. This is Jin. Clap, clap, clap everyone, it's my birthday today. I'm really happy that it's my birthday. I'm happy because it's my birthday but I'm even happier watching our ARMY having fun on twitter and fancafe because it's my birthday. ARMY's happiness is the greatest happiness to me. Also, we received the Daesang and the popularity award not too long ago! I'm very happy because of the Daesang, but I liked it even more that we were able to receive the popularity award thanks to ARMY's hard work. <3
Needless to say, the BTS ARMY is super enthusiastic about wishing their faves a happy birthday. And Jin seems very grateful that he gets so much love from around the world.