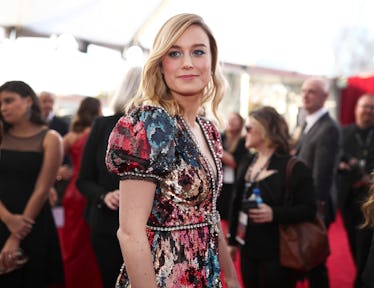 These New Details About 'Captain Marvel' Will Make You Love Brie Larson Even More
Christopher Polk/Getty Images Entertainment/Getty Images
The ending of Avengers: Infinity War was quite bleak, but the film's post-credit scene provided audiences with some hope for the future of the Avengers franchise. Before he joined half of his team in disappearing into thin air, Nick Fury managed to contact the superhero Captain Marvel, who is suspected to be the saving grace who will help the remaining Avengers revive the others in next spring's fourth film. Brie Larson's Captain Marvel will first appear in a standalone movie in March 2019, and the Oscar-winning actress has the upcoming project on her mind. Brie Larson revealed new Captain Marvel details, and I honestly can't wait to see her save the day in future films.
According to E! News, Larson has been working on Captain Marvel since March, but while being honored at the 2018 Crystal + Lucy Awards this week, she spilled on the red carpet about the physical and mental challenges of shooting the film. Although getting into shape for a role may cause some actors to balk, Larson sees it as an opportunity to "find the character." She told E!:
It's all about: 'How far can I take myself to kind of reprogram my brain and reprogram my body to learn something new about myself?' This has been an amazing challenge. She's so, so strong. She can move planets! To me, it's like, 'How far I can I go with this strength?' I'm really proud of what it is that we're making and I think all the hype and anticipation will be worth it.
Larson has documented some of her Captain Marvel training on Instagram, but the behind-the-scenes work has gone beyond physical preparation. She also posted a photo of herself with a female wing commander, as Captain Marvel's alter ego, Carol Danvers, is a United States Air Force officer. The Captain Marvel movie will clearly focus on its lead being inspirational even outside of her superhero suit.
Larson also spoke about the experience of being the face of Marvel Studios' first female-led film, saying:
It's sort of interesting, because it doesn't really feel like it's happening to me; the surreal aspects feel like it's happening to somebody else. We're making the movie right now, and that part feels kind of the same. I mean, the only difference is that there's more people there.
Larson's title role isn't the only way Captain Marvel will make franchise history. Composer Pinar Toprak will score Captain Marvel, becoming the first woman to score a Marvel Studios film. In case you needed any more reasons to keep Captain Marvel on your must-watch list, count Toprak's monumental involvement as one of them.
With a cast that also includes Jude Law, Annette Bening, and Lee Pace, Captain Marvel will veer away from Marvel tradition and take place in the 1990s. Marvel's official synopsis of the movie reads:
The story follows Carol Danvers as she becomes one of the universe's most powerful heroes when Earth is caught in the middle of a galactic war between two alien races. Set in the 1990s, Captain Marvel is an all-new adventure from a previously unseen period in the history of the Marvel Cinematic Universe.
Samuel L. Jackson will also appear as a young Fury, possibly setting up the reasoning behind why he reached out to Captain Marvel at the end of Infinity War. According to Digital Spy, Fury and Captain Marvel will team together to fight against the Skrulls, shapeshifting aliens who have yet to appear in any of the Marvel Cinematic Universe films. Fury definitely doesn't receive as much screen time as he should in the Avengers movies, so it should be great to see him partner with such a powerful force in a completely different time period. But in the end, Captain Marvel getting the big screen story she deserves will be the most thrilling element about the film. How lucky are we to have Brie Larson bringing this character to life?
Captain Marvel is in theaters on March 8, 2019.