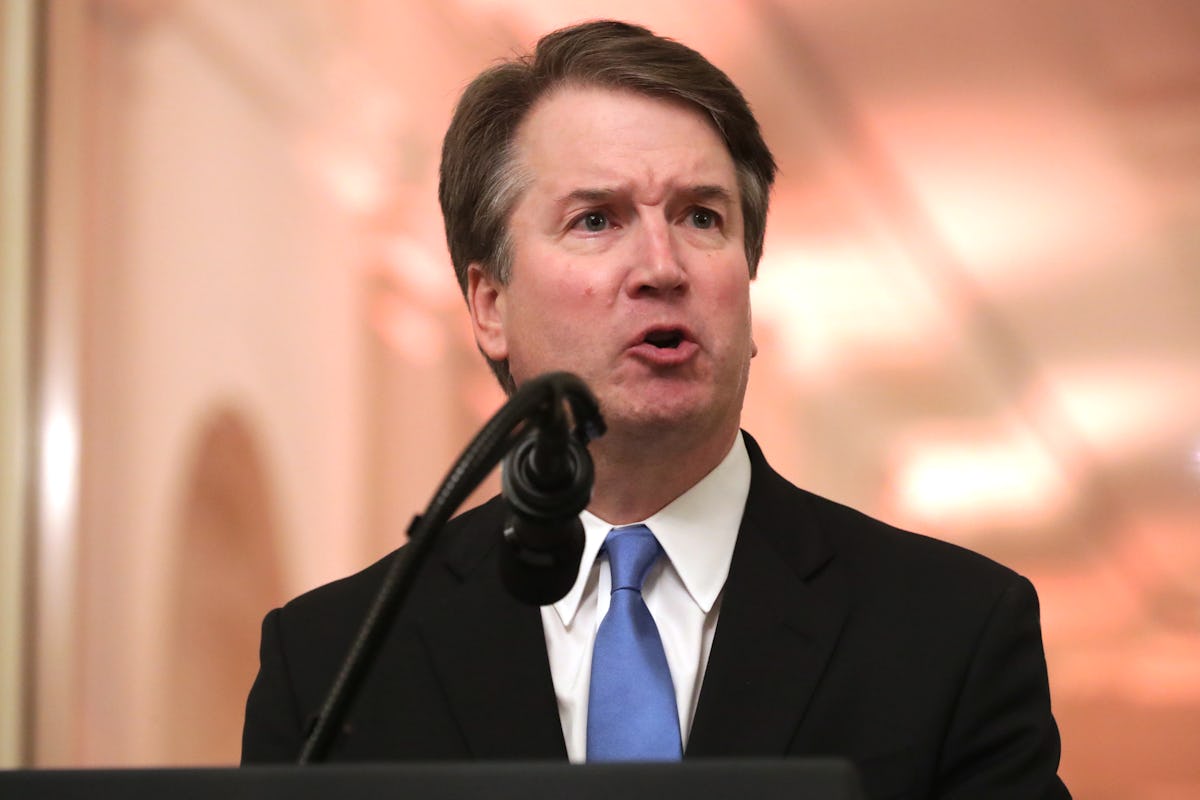 Brett Kavanaugh's First Case As A Supreme Court Justice Is A Hot Button Issue
Chip Somodevilla/Getty Images News/Getty Images
Brett Kavanaugh is on his way. After a turbulent nomination process, the judge has been confirmed to the Supreme Court and will begin hearing out cases as a justice of the country's highest court on Tuesday, Oct. 9. If you were wondering what he's tackling first, Brett Kavanaugh's first Supreme Court case on the bench will involve criminal justice and gun issues, where he'll likely serve as a key vote.
Kavanaugh is expected to swing the nine-justice panel heavily right, and the first few issues he'll be hearing could be significant. According to USA Today, on Tuesday, Oct. 9, Kavanaugh will begin his time on the bench by hearing arguments on Stokeling v. United States, which deals with criminal justice and mandatory minimum sentencing in regards to a 1984 federal law, the Armed Career Criminal Act. The law requires a 15-year minimum sentence for federal firearm offenders who have three prior serious or violent felony convictions. The question coming before the court now is what, exactly, constitutes a violent or serious felony under the act, as it varies by state. Kavanaugh's other initial cases are going to be on tricky subjects, too. USA Today reports that Kavanaugh will also be hearing a case on immigration centering around whether undocumented immigrants can be detained during deportation proceedings, and a case "filed by Navy sailors seeking to recover damages for injuries caused by asbestos exposure" on Wednesday, Oct. 10.
According to TIME, Kavanaugh missed the first week of the term's hearings, as the new Supreme Court term began on Oct. 1, a week before he was confirmed and sworn in. Per USA Today, he missed cases on endangered animals, the death penalty, and property rights.
On Saturday, Oct. 6, Kavanaugh was sworn in by Chief Justice John Roberts and the man he replaced, retired Justice Anthony Kennedy, after the Senate confirmed him in a 50-48 vote the same day. The confirmation followed a contentious nomination battle inflamed in allegations of sexual misconduct, which Kavanaugh has vehemently denied. "This is a completely false allegation. I have never done anything like what the accuser describes—to her or anyone," he said in a statement to CNBC. Elite Daily reached out to his representatives for further comment on the allegations, but did not receive a reply.
California professor Christine Blasey Ford was one of three accusers who went public with sexual misconduct accusations against Kavanaugh that nearly derailed his nomination. According to her, while the two were at a gathering of friends back in the 1980s, the judge allegedly pinned her to a bed and attempted to rape her. Both Ford and Kavanaugh later testified on the claims at a hearing with the Senate Judiciary Committee on Sept. 27, with Ford restating her claims and Kavanaugh denying them. The hearing ultimately led to a delay on Kavanaugh's final confirmation vote for one week to allow time for the FBI to thoroughly investigate the allegations. After receiving the FBI report, Senate Majority Leader Mitch McConnell announced that the investigation "did not corroborate any of the allegations against Judge Kavanaugh," per CNN. Meanwhile, a number of Democrats slammed the report, claiming that it was limited in scope and was "incomplete" since it excluded the testimony of many who they said might have been able to provide evidence, including Ford and Kavanaugh themselves. Elite Daily reached out to the FBI at the time for comment on the exclusion, but did not hear back.
Connecticut Sen. Richard Blumenthal was one of many who claimed the investigation was a "cover-up."
In the end, Kavanaugh emerged on top, and is ready to begin his journey as Supreme Court justice, weighing in on some serious and controversial matters. It'll be a sight to see.