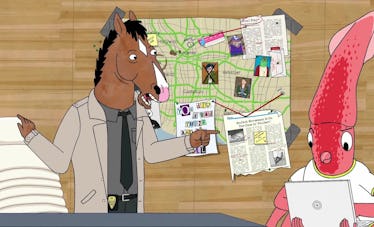 'BoJack Horseman' Has Been Renewed For Season 6, Because We Need More Existential Dread
Netflix
More BoJack Horseman is coming your way soon. A little over a month after the fifth season of Netflix's adult animated dramedy was released, the streaming service announced that BoJack Horseman Season 6 is officially happening.
The BoJack Horseman renewal should not come as too much of a surprise to fans of the show, which has garnered both a large online fandom as well as consistent critical acclaim. The series is also the very first original adult animation series to air on Netflix, and that genre has begun to boom for the streaming network in recent years. Since BoJack Horseman first premiered, Netflix has added several more original adult animation series, such as Big Mouth, Disenchantment, F Is for Family, and Castlevania. In fact, Netflix recently announced its plans to establish its own in-house animation studio.
Even aside from the show's popularity and the boom in animation, BoJack Horseman's renewal seemed like a given after the various cliffhangers that its Season 5 finale left off with. Spoiler alert: The rest of this post includes spoilers from the Season 5 finale of BoJack Horseman.
The recently concluded season was largely concerned with the Time's Up movement in Hollywood, showing a literal sex robot climbing to the highest position of power at a company and a consistently racist and violent actor continue to keep working thanks to some rote apology speeches. But most importantly for the series, it also showed BoJack hitting a new low by assaulting his female co-star while high on painkillers.
Once BoJack realized what he had done, Diane is able to convince him that he needs to enter rehab. The final scene of the season shows Diane seeing BoJack off as he enters treatment. It is safe to assume that next season will pick up with BoJack in rehab, finally coming clean after five seasons of alcohol and pills.
But BoJack is not the only character who ended Season 5 with a bit of a cliffhanger. Throughout the recent season, Princess Carolyn discovered just how difficult the adoption process can be for a single woman, but in the finale, a woman named Sadie finally decides to give Princess Carolyn her newborn baby. We see Princess Carolyn holding her new baby, who is a porcupine, but she can only come up with "Untitled Princess Carolyn Project" for a name. Season 6 should show us Princess Carolyn adjusting to motherhood.
And then, of course, there's Diane and Mr. Peanutbutter. The formerly married couple split up at the end of Season 4, and Mr. Peanutbutter began a relationship with an excitable pug named Pickles. However, at the end of the season, Diane and Mr. Peanutbutter begin sleeping with one another again, and although Mr. Peanutbutter attempts to come clean about the affair to Pickles, he ends up proposing to her instead. The new season should show Mr. Peanutbutter and Pickles planning their wedding, while Mr. Peanutbutter also reckons with his relationship with Diane.
It is too early to know when BoJack Horseman Season 6 will premiere, but if it keeps up the release trend of its past two seasons, then fans can look forward to new episodes around next September.