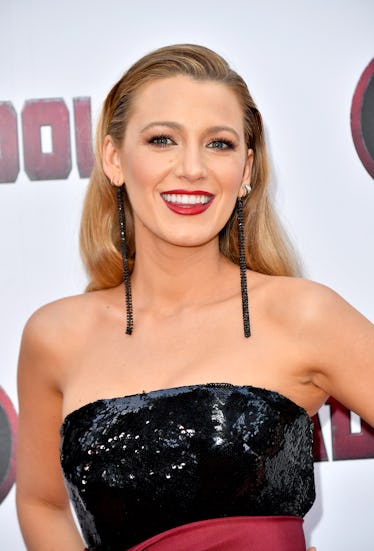 Blake Likely Just Clapped Back At A Fashion Critic Who Shaded Her For Wearing Suits
Michael Loccisano/Getty Images Entertainment/Getty Images
Blake Lively isn't here for the fashion world's double standards. And she definitely let that be known on Instagram. On Monday, Sept. 17, an Instagram fashion critic posted a photo of Lively's red carpet look for an event promoting her film A Simple Favor. In the photo, Lively is wearing one of many suits she's sported over the last few months. When the Insta fashion critic made note of just how suits Lively has worn in recent days, Lively clapped back. Blake Lively's response to Catherine Kallon shading her suits is pretty epic and definitely serves as a lesson in how to keep double standards in check.
In the Sept. 17 post, Kallon, a fashion critic and founder of the Red Carpet Fashion Awards, posted photos of Lively in a light pink suit from an event for the new film A Simple Favor. She captioned the post with, "It's suit number 1,356 for Blake Lively's promotion of 'A Simple Favor'. This time custom pink Ralph Lauren Collection."
When Lively saw the post, she took to the comments section to give her opinion on the caption.
"Would you note a man wearing lots of suits during a promo tour?" Lively wrote on September 18. "So why can't a woman? Just sayinnnn. No double standard ladies."
Lively definitely has a point there. Men wear suits all the time and don't get any flack for it. Why can't women wear them, too? No one ever make negative comments about how often a woman wears dresses, right? In any case, the Instagram user responded to explain that they actually love Lively's choice of suits and that they were just joking.
"You know I love you, and I personally have really enjoyed this tour," they wrote. "If you look at my website, I have said that I have admired your total commitment to rocking suits during this promo tour. That number was just an attempt at humour. I'm sorry it didn't translate. Looking forward to the Paris premiere. 😘"
This is the suit lively was wearing in the photo, by the way:
Here's a look at their exchange:
Not wanting to leave the fashion critic and fan hanging, Lively responded with a heartfelt message about wanting to encourage women to think outside the box when it comes to fashion.
"Nothing but love," Lively responded. "I don't expect everyone to like it. Fashion that creates a difference of opinions is the fun part. I totally understand the missed humor. I do the same thing sometimes. Just lookin' to encourage woman to do what men do without being teased for it. Yes, even in a space as material as fashion. It all starts somewhere…and everyone's voice counts."
So, basically Lively is positioning herself as a red carpet role model for women everywhere and that's such an amazing thing. She's proving that women can wear whatever they want and still be beautiful, fashionable, respectable, and worthy. And that is a really important message for women to absorb and put into practice. I love that Lively is taking on double standards when and where she can and making sure she's an empowering voice for women.