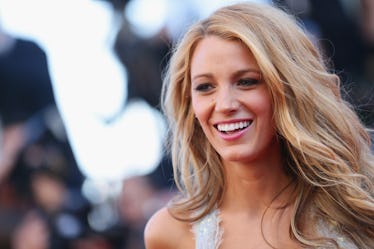 Blake Lively Opened Up About Being Bullied For Her Height In Her Latest Instagram
Vittorio Zunino Celotto/Getty Images Entertainment/Getty Images
Not even Blake Lively could escape the wrath of childhood bullies. At least, that's what she's saying in her latest Instagram posts. The 30-year-old actress took to the social media platform on Tuesday, April 17 to open up about her past experiences. So, what could have possibly prompted bullies to make Lively their target? Apparently, Blake Lively was bullied for her height and her "yellow" hair.
The actress, who's known for her roles in Gossip Girl and Café Society, recently visited the Sesame Street set, where she was able to hang out and snap photos with the most famous bird around. Yep, Big Bird! And it was kind of a big moment for Lively, who said on Instagram that she was often compared to the TV character as a child:
Still geeking out😍. Kids used to make fun of me in elementary school by calling me Big Bird (because I was "too tall" and had "yellow" hair). Here's to making best buddies with the things that once hurt you 🥂💗
What a sweet and positive message! Given how vocal Lively is about so many important issues, it's a bit strange to think of her as being on the receiving end of bullying. But at least she's making this a positive learning opportunity for her fans.
In her photo with Big Bird, Lively is all smiles and even seems a bit in awe. And if you were wondering, Lively is tall. She stands at about 5 feet 10 inches.
Lively also shared another Instagram post, a fun boomerang video that included all of her Muppet friends. The caption? "Finally. I have friends."
Elmo, Cookie Monster, and the whole gang took part in the video. Too cute!
So, why was Lively spending time with Big Bird and a bunch of Muppets, anyway? Turns out she's all set to make her debut on Sesame Street, which, as we all know, is the ultimate kids show and a highlight in many performers' careers. Sesame Street has opened its set doors to the likes of Michelle Obama, Jessica Alba, Emily Blunt, Zac Efron, Jimmy Fallon, and so many more.
So, Lively is in very good company. And, bullying aside, she's doing pretty well for herself. Not only is she a well-known actress, but she is also married to Deadpool star Ryan Reynolds, has two beautiful kids (Ines, 1, and James, 3), and seriously seems happier than ever.
Imagine making fun of Blake Lively as a kid and then spending the next 20 or so years watching her make all her dreams come true. I don't know about you, but I'd feel pretty silly.
Thankfully, Lively didn't take all that bullying to heart and is doing what she can to empower others. Back in 2016, Lively became very vocal about body positivity, especially as it relates to post-baby bodies. During an appearance on Australian morning TV show Sunrise, Lively — who was then pregnant with her second child — challenged the idea that people should celebrate rapid post-baby transformations:
You don't need to be Victoria's Secret ready right away because you just did the most incredible miracle that life has to offer. I mean, you gave birth to a human being! So I would really like to see that celebrated.
Obviously, this is a topic close to Lively's heart and it's great that she's been giving it a voice. Same for her Big Bird revelation, which is certain to be helpful to young people who are facing bullies in their day-to-day lives.
Hopefully Lively continues to speak out on these issues. The world genuinely needs more powerful voices like hers.