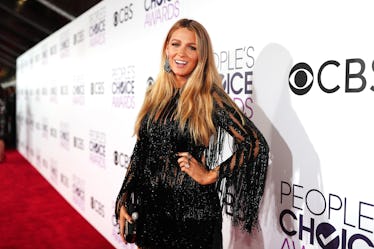 Attention 'Gossip Girl' Fans, Blake Lively Is Developing A New Fashion-Based Show
Christopher Polk/Getty Images Entertainment/Getty Images
Blake Lively has certainly made her Gossip Girl character Serena van der Woodsen proud in the years since the CW series wrapped. The star has turned into a fierce fashion icon, and based on her newest project, she must have picked up a helpful tidbit or two from Serena's stylish Upper East Side upbringing. Blake Lively is developing an Amazon show, and its synopsis has me a little convinced that she is Serena. Can Gossip Girl confirm this?
According to The Hollywood Reporter, Lively is working on the development of a scripted Amazon Studios series with a fashion theme. The program would also reportedly have a "merchandising component" linked to Amazon, so it low-key sounds like the streaming site will allow viewers to interact with outfits or items on the series and buy them through Amazon's retail section. The studio didn't spill anything else about the potential show's plot, but seeing as how many internet slideshows are dedicated to Lively's fashion, this series is definitely in capable hands with her as an overseer.
With Lively's involvement coming soon after Nicole Kidman signed her own production deal with the company, Amazon Studios head Jennifer Salke said of the actress, "She's a force of nature: ambitious, smart, and talented."
That's cool, but is this a subtle "where are they now" look at the characters of Gossip Girl or not?
Although fashion closely links Lively's star-making TV role and the work she plans to do on this series, Deadline has clarified that the original project will be "culturally relevant." Sadly, teenagers' New York City doings in the late 2000s probably aren't too relevant to a wider audience, unless Gossip Girl herself decides to narrate political tweets again.
The timeline and other specifics of the project are a mystery, but we can definitely take an educated guess at what the fashion-forward show could tackle. Social media has forever changed the modeling industry, and a brutally honest look at the good and bad of this effect would be more addictive than any America's Next Top Model episode. Meanwhile, nothing screams "relevant" more than #MeToo, and social media has also documented stories of abuse in the fashion and modeling worlds. Given Amazon's success with Emmy Award-winning The Marvelous Mrs. Maisel, telling women's stories tends to strike gold for the streaming service. Will Lively's project follow suit?
The fashion series isn't the first production credit on Lively's résumé. She's set to produce The Husband's Secret, an adaptation based on Big Little Lies author Liane Moriarty's book. Lively spoke to Glamour about the decision to produce and how it gives women parity in the film industry, saying:
I'm fortunate to be in a place now where I get to find the material—a book or script—early and develop it... Nobody's going to fight for you as much as you fight for yourself. That said, I know a lot of great men—directors, producers, studio heads—looking to tell stories about women, some because they're drawn to those stories, some because they're husbands or fathers and want to see the women in their life represented more accurately, and some just because they look at the numbers.
Add Lively's name to the list of cool Hollywood ladies making a difference in the movie and TV landscape. We'll keep an eye out for more of what Amazon's take on an fashion theme will entail.