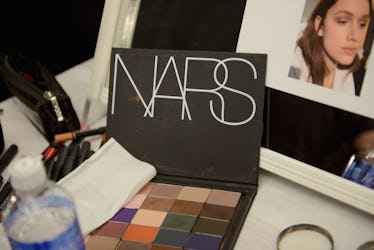 The Best Black Friday Beauty Deals Are In & This NARS Sale Will Slay You
Noam Galai/Getty Images Entertainment/Getty Images
It's Thanksgiving Eve, and that means Black Friday is almost here. With so many articles floating around in the internet ether, and your wallet burning a literal hole in your pocket, it can be hard to choose what to spend your money on. The obvious answer is tons and tons of beauty products, so I found the best Black Friday 2017 beauty deals on the market, period, finito. No need to thank me. I'm your beauty Nancy Drew and I work solely for you.
I know about practically every deal floating around the internet for Black Friday 2017, and even I was overwhelmed about which were really worth your hard-earned coin at the end of the day. So I buckled down, weighed the pros and cons, and chose the top discounts that I think are really worth your while.
As my fellow beauty lovers already know, makeup rarely goes on sale, especially new releases and popular items. So even solid, heavily discounted Black Friday deals can be hard to come by. Some self-appointed beauty gurus aren't impressed by the free gifts with purchase and the 10 percent off codes anymore. After all, you can get those year round. But a 20, 30, or 35 percent discount? Now that's like a unicorn sighting, magical and almost too good to be believed. So, if you're looking for those hefty savings this holiday season, search no more. I've got you and your beautiful shiny face covered.
NARS
According to Allure, NARS is giving us 20 percent off all their products online (with some exclusions, of course), as a part of their site-wide Give & Take event. As any true makeup lover knows, NARS rarely goes on any type of sale. Rumor has it the discount starts Nov. 23 and lasts till Nov. 28. Now's the time to snatch backups of your favorite Dolce Vita lipstick and Laguna Bronzing Powder.
NYX
NYX is giving us cosmetic lovers a 30 percent discount to use in stores or online. Blessings! Get all your Soft Matte Lip Creams and Vivid Brights Liners now and enjoy a full year of color-popping success.
Make Up For Ever
Make Up For Ever is showing appreciation for all the makeup artists out there by offering some outstanding deals for the whole Thanksgiving weekend. From Nov. 22-27, the brand is offering buy one, get one free on all their mascaras, any two Artist Liquid Matte Lipsticks for $29, any two Aqua Matics for $15, and a 12 piece assortment of the Artist Shadows of your choosing for just $75 (which normally costs $252). You'll be more colorful than the Rockefeller Christmas tree this holiday season.
TrèStiQue
From Nov. 22-26, TrèStiQue is offering all of their stick cosmetics at a 30 percent discount plus free shipping. But, if you wait till Cyber Monday, you can get all their products at 35 percent off! If you haven't tried their Matte Blur Stick and Blotting Paper, now's the time. It's the perfect product for anyone with oily skin.
BareMinerals
The endlessly popular brand of BareMinerals is giving us all 20 percent off all orders of $100 or more from Nov. 20-26. They really do have some super cute, adorably packaged gift sets, so if you need a gift for your mom, aunt, or dog walker, you're in luck.
Ricky's NYC
In case you haven't heard of it, Ricky's NYC is a popular New York City retailer that carries numerous niche brands, like Morphe, Violet Voss, Sugarpill, and more. From Black Friday through Cyber Monday, Ricky's is giving you 30 percent off all orders over $10 with the code CYBERWEEKEND. Simply visit Ricky's website and shop away.
Dermovia
Combining two of your most-beloved things, Dermovia is known for their totally IG-worthy lace face masks. On Black Friday, the brand is offering 40 percent off all boxes of their lacy face masks on their website. Just use the code MASK40DAYS. I suggest picking up the The Lace Your Face X Dr. Pimple Popper Clear Complexion Kit. After all, if it's good enough for Dr. Pimple Popper, it's good enough for us.