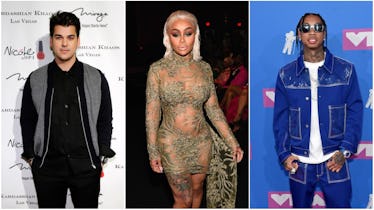 Blac Chyna May Have Called Out Rob Kardashian & Tyga In Her Latest Instagram About Her Kids
Ethan Miller/Paras Griffin/Jamie McCarthy/Getty Images Entertainment/Getty Images
Blac Chyna is here to tell us how she really feels, you guys. And how she really feels seems to be rather pissed off at her exes and fathers of her children Rob Kardashian and rapper Tyga. It looks like Blac Chyna has beef with the two men she's previously dated, and it's all circling around her two children, 6-year-old King Cairo and 2-year-old daughter Dream Kardashian. While she doesn't call out her two exes by name, Blac Chyna's Instagram about her kids certainly looks like she's throwing some real shade to both of her children's fathers. Let's break it down, shall we?
So, here's what happened. On Monday, Nov. 19, Blac Chyna took to her Instagram Story to seemingly call out her exes in a very, erm, cryptic post.
"'So' my children aren't supposed to live the same lifestyle as their fathers ETC ETC ha?" the model wrote. "As a single mother, I provide for them and give them the luxury lifestyle they deserve."
The next post to her Instagram was even more strange. She uploaded one single, blown up emoji — the one where it has a party hat on and confetti all around it. While I can't be sure the two posts are related, she did post them one after the other, so I feel like they may somehow be connected?
Take a look for yourself below:
Eesh. And here's the post she made right after her initial one:
Are you confused? Because I'm confused.
Elite Daily reached out to Blac Chyna, Kardashian, and Tyga's team for comment on the report, but did not hear back by the time of publication.
So, what gives? Neither Rob Kardashian (who is Dream's father) nor Tyga (who is King's father) has commented on the post publicly yet, so we'll have to wait and see if they fire back at Blac Chyna.
It's not exactly surprising that Blac Chyna has seemingly called out ex Rob Kardashian, though, considering the pair have had a somewhat sordid past. Ever since they called off their engagement back in 2017, there's been a ton of ~drama~ between these two, like their cringe-worthy social media war after they called it quits, which ended with Blac Chyna obtaining a restraining order against her former fiancé.
The two remained relatively quiet about the matter after that, and an insider told E! News this past summer that "Chyna and Rob are fine right now," adding that "there's no major drama between them; it's all civil and they're getting along for Dream."
But nothing gold can stay, folks, because the drama obviously returned.
Just last week, Rob Kardashian reportedly filed court documents that claimed he could no longer afford the $20,000 per month child support payment for Dream. Shortly after, Black Chyna took to her Instagram Story, seemingly throwing shade at her ex, writing, "Sick of these n***as." Elite Daily reached out to Kardashian's team about the report, but did not hear back by the time of publication.
But it's not just Rob who's been seemingly thrown under the bus. Black Chyna has called out Tyga previously as well for not paying child support back in March 2017.
She took to Snapchat, calling out Tyga for reportedly failing to pay child support, and then dragged Tyga's then-girlfriend Kylie Jenner into the whole situation. Per TMZ, she wrote in part,
It's funny now to me !!! But when Tyga and side n**** kicked me out !!! And they wanted to see me fail ! lol And 2 grind from the dirt !!!!! No child support! ... So go tell Kylie, and Rob ! About our son Account ! Cause that's the only reason I'm contacting ur f** ass!
Not sure how this one is going to pan out, you guys. But you can be damn sure that I'll be checking on Blac Chyna's social media for the foreseeable future.