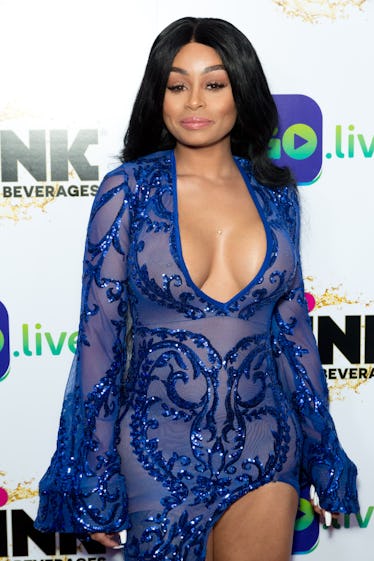 There's An Update To Those Rumors About Blac Chyna Being Pregnant & Wow
Greg Doherty/Getty Images Entertainment/Getty Images
When it comes to celebrity gossip, it's easy to sometimes get ahead of ourselves, especially when the media is involved. Cheating scandals, baby drama, surprise elopements — you name it, fans have heard about it. But sometimes, things get misconstrued or lost in translation, much like when the world found out that Blac Chyna was reportedly pregnant. But let's stop it here, because according to reports, Blac Chyna isn't pregnant with her third child, so we all need to chill the eff out, OK? OK. Elite Daily reached out to Chyna's team for confirmation on the report but did not hear back by the time of publication.
So here's what went down: On April 30, Page Six reported that Blac Chyna was expecting her third child with her new boyfriend, 18-year-old rapper YBN Almighty Jay. Chyna has two children from previous relationships — a 5-year-old son named King Cairo with rapper Tyga, and a 17-month-old daughter named Dream with Rob Kardashian.
The couple supposedly met on Christian Mingle (yes, that one took me for a loop as well), and, regarding the reported pregnancy, Chyna's rep told Page Six in a statement that they "only handle appearances and don't ever comment about [their] clients personal lives," and were unable to comment on the reports. Elite Daily reached out to Blac Chyna's reps for comment, but did not hear back at the time of publication.
But it looks like we've got it all wrong. According to TMZ, sources says that Blac Chyna is not pregnant with YBN Almighty Jay's child, but the site has been told that she "does want more kids in the future... and isn't ruling anything out with YBN."
C'mon, everyone. I think it's about time we stop jumping to conclusions, don't you think?
Also me:
While Chyna and Jay's relationship seems a little bit unique (with an age gap of more than a decade), it seems like the couple are very happy together. Rumors were swirling back in February that the two were dating, when they were spotted cuddling while bowling together; they confirmed the relationship on March 1 when a TMZ reporter asked if the two were officially dating. "Yeah. We're, like, dating," Chyna told the reporter.
Ah, young love. So sweet. So bashful.
The rapper was, erm, a bit less bashful about confirming their relationship, and posted a photo to Instagram of Chyna on April 10, with a caption that read, "Will You Marry Me?," which I have to say is super sweet, but feel as though the location of where the photo was taken is really ruining the vibe for me:
Is it a gas station? A convenience store? I guess the flowers in the foreground jazz it up slightly?
But, I digress.
Perhaps this new relationship will be a breath of fresh air for Chyna, considering her last few relationships haven't gone exactly according to plan.
Remember Chyna's relationship with rapper Tyga? The pair started dating back in 2011, and their son King Cairo was born shortly after, on October 12, 2012. They ended their relationship in 2014, and the world saw Tyga hanging out Kylie Jenner, who denied dating rumors — until Kylie turned 18 in August of 2015, when they made their relationship official on Instagram.
And, in another weird turn of events, Chyna made yet another connection to the Kardashian family by dating Kylie Jenner's half-brother, Rob Kardashian, back in January of 2016. Chyna became pregnant relatively quickly, and the pair had a daughter, Dream, on Nov. 10, 2016 — though the couple had a very on-again, off-again relationship throughout the entirety of Chyna's pregnancy.
So let's all just take a step back, and let Chyna do her thang with her new man.
You do you, boo.