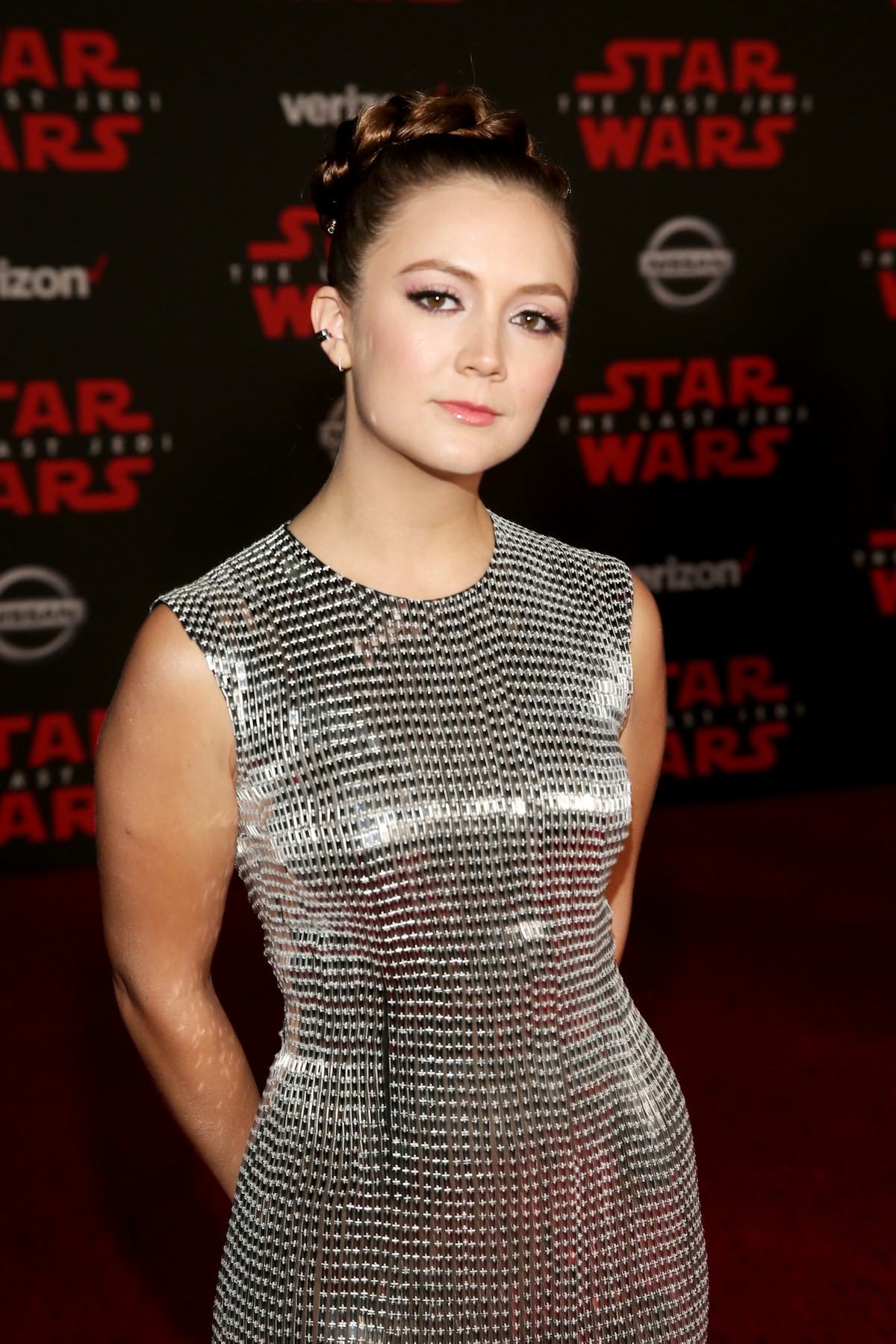 Carrie Fisher's Daughter Wore Princess Leia Buns To Honor Her Mom & I'm Crying
Jesse Grant/Getty Images Entertainment/Getty Images
Star Wars fans around the world are counting down the days until The Last Jedi hits movie theaters. On Dec.9, household names assembled onto the red carpet to fete the film, but one actress stood out with her especially touching style statement: Billie Lourd's 'Star Wars' Princess Leia buns honored her mother Carrie Fisher in a way that only she could.
If you're unfamiliar with Billie Lourd, you're missing out. The 25 year-old actress is known for her role as Chanel #3 in the Fox comedy horror television series Scream Queens, which also starred Emma Roberts and was kind of hysterical. Although the show was cancelled, Lourd's resume is still stacked. She's set to star as Winter Anderson on American Horror Story: Cult, the show's seventh installment.
But Lourd's first major movie was Star Wars: The Force Awakens, as Lieutenant Connix. In that movie, mom Fisher (the iconic Princess Leia) was a general in command of a massive army. Lourd played Lieutenant Connix, who was a member of her army. Although her cameo was super small, she is reprising that role in Star Wars: The Last Jedi, and I can't wait to watch her in the new film.
At the premiere, Fisher's absence was obviously noted, and the late actress received many tributes. After filming her part in The Last Jedi, Fisher passed away December 2016, prompting worldwide sadness. According to Variety, the film's writer and director Rian Johnson decided to dedicate the premiere to Fisher's memory. "Let's have a blast for Carrie," he told the audience. While acknowledgments rolled in from Fisher's fellow cast members, Lourde's heartwarming, subtle nod to her mother came down the emblematic way in which she styled her hair.
For the occasion, Lourd stepped out in the iconic Princess Leia buns. Even if you're not into Star Wars, you've seen the hairstyle before, because the look became a pop culture phenomenon just as the film did. As General Leia Organa, Carrie Fisher's hair was always styled in buns. At the premiere, Lourd decided to channel her mother and wore an identical braided bun. Specifically, in the franchise's very first film (1977's Star Wars: Episode IV — New Hope), Princess Leia donned a braided bun that was positioned like a crown.
Since Fisher's passing, Lourd has found many ways to honor her mother and the legacy she has left behind. She's accepted awards Fisher received posthumously, loves posting throwback photos, and even got a tattoo to match her mom. Lourd has even dabbled in wearing Star Wars–inspired fashion on the red carpet. Although it's no surprise that Lourd decided to honor her mother on the premiere night, it's still touching for those who knew Fisher and comforting to her fans.
But any true Star Wars stan would know that Fisher herself wasn't actually a fan of the hairstyle. Over the years, she alluded to it as a fashion don't, and lamented how it would take two hours for the team just to create the look. The buns were necessary, though. George Lucas, creator of the Star Wars and Indiana Jones franchises, looked to other cultures to give the rebel hero and princess a look that would stand out. According to Time, Lucas drew inspiration for the famous 'do from the women of the Hopi tribe and Pancho Villa.
"I was working very hard to create something different that wasn't fashion, so I went with a kind of southwestern, Pancho Villa woman, revolutionary look."
As fans gear up for The Last Jedi's premiere on Friday, Dec. 5, expect to see braided buns beyond Lourde. Carrie Fisher's legacy lives on, and so will her hair.