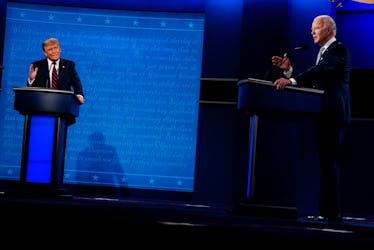 Biden & Trump Had A Wild Exchange About Racism At The Debate
The Washington Post/The Washington Post/Getty Images
Tonight's second (and final) face-off between Democratic presidential candidate former Vice President Joe Biden and incumbent President Donald Trump took place at the peak of election season, when millions of people across the country have already cast their ballots as early voters. With only 12 days until Nov. 3, this high-stakes night is the last opportunity both candidates have to go head to head and win over undecided voters. While there were many moments that had viewers on the edge of their seats, viewers all over Twitter were staggered by Biden and Trump's exchange about racism at the Oct. 22 debate — and yes, it really went there.
The exchange took place after moderator Kristen Welker asked the candidates about the connection between racism and policing in America. During his response, Trump compared himself to famous President Abraham Lincoln, stating "no one has done more for the Black community than Donald Trump," referring to himself in the third person. "I am the least racist person in this room," Trump asserted at one point.
Biden countered by calling out Trump's history of fanning the flames on racism, mocking Trump's self-assessment. "'Abraham Lincoln' here is one of the most racist presidents we've had in modern history," Biden said. "He pours fuel on every single racist fire." Biden brought up Trump's 2016 campaign comments, where he infamously referred to Mexican immigrants as drug dealers, rapists, and criminals. The White House did not previously respond to Elite Daily's request for comment on Trump's earlier comments.
The former vice president also called out the president's comments on white supremacy in the Sept. 29 presidential debate. "Who would you like me to condemn? Who? The Proud Boys?" Trump said at the time. "Stand back, and stand by, but I'll tell you what, someone's gotta do something about Antifa and the left." The Trump 2020 campaign did not respond to Elite Daily's request for comment on the president's remarks at the time.
Biden called it out on Oct. 22. "This guy has a dog whistle about as big as a foghorn," Biden said.
As some Twitter users pointed out, Trump's statements about being the "least racist person in the room" were more than a little ironic after he'd discussed his administration's stringent policies on family separation at the border, not to mention while actively being moderated by Welker, a Black woman.
This is far from the first time Trump has made comments accused of racism. In 2017, the president was slammed for defending white supremacist groups after heated demonstrations from far-right extremists left one counter-protester dead in Charlottesville, Virginia. Trump's comments seemed to exonerate these groups, as he stated that there were "very fine people on both sides." Trump later said that he responded to the Charlottesville violence "perfectly."
With Nov. 3 coming closer and closer, many are speculating on whether or not Trump's performance at tonight's debate may have done his campaign more harm than good. Polls gathered by international news source the BBC show Biden aheadat 51%, while the president is lagging at 43%. However, national polls are notoriously inaccurate at predicting election outcomes — while they're great for painting a picture of the nation's most popular candidate, they don't necessarily portray how the population will vote. Only time will tell whether or not this final debate will be enough to shake up the results of the election in November.