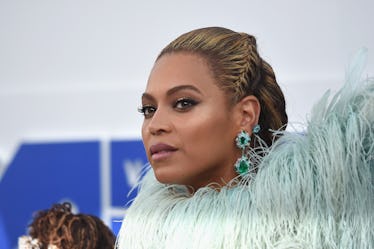 Beyoncé Was Almost Cast In A Different Disney Movie & We're Pissed It Didn't Happen
Jamie McCarthy/Getty Images Entertainment/Getty Images
Unless your primary form of receiving information is via carrier pigeon, you know that one Ms. Beyoncé Knowles, aka Mrs. Carter, aka Queen Bey, aka Yoncé has officially announced she will be voicing Nala in the highly anticipated live-action remake of Disney's The Lion King. If you're anything like me, then your first thought upon hearing this was "What a time to be alive!" As exciting as this news is, though, it has recently come to my attention that Beyoncé was almost cast in the Beauty and the Beast remake and now I would like to see that version because I'm greedy, never satisfied, and want to see Beyoncé in everything.
That's right, the director of this year's live-action remake of Beauty and the Beast, Bill Condon, wanted Queen Bey for the role of Plumette — Lumiére's feather duster girlfriend, but, obviously, it never panned out. Sadly for all of us, Bey didn't take the role because "it wasn't a big enough part," according to Condon. With a schedule like Bey's, who can really blame her? The director told Yahoo! Movies, "[Beyoncé] would have been a good feather duster," but, alas, the part ended up going to Gugu Mbatha-Raw (whose voiceover work was just as amazing).
This isn't the first time Beyoncé has turned down a role with Disney. Nearly a decade ago the singer was in talks to voice the part of Princess Tiana in 2009's The Princess and the Frog, but ultimately lost the role to actress Anika Noni Rose (alongside whom she starred in Dreamgirls) after not wanting to audition.
Though Yoncé never ended up signing on for this year's Beauty and the Beast, she has worked with Condon before on his 2006 film Dreamgirls, where she gave a powerhouse performance in one of the lead roles as as Deena Jones. Like all of us, the Beauty and the Beast director remains a card-carrying member of the beehive to this day, telling Yahoo! Movies, "You look at something like Lemonade: That is brilliant. That is a brilliant new direction for movie musicals."
Hmmm... I certainly wouldn't be opposed to a Lemonade movie musical.
In the meantime, while we wait for that, we can continue to get hyped over the fact that our queen ('s voice) will be taking the screen in 2019's The Lion King remake as Simba's lovable playmate turned life mate, Nala. If there was ever one way to make The Lion King even better, Disney went and figured it out.
Though rumors that Beyoncé would voice Nala have been circulating online since earlier this year, Disney made the ~official~ announcement just recently when it uploaded a photo featuring every member of the cast to its social channels.
Naturally, with big names like Beyoncé, Donald Glover, and Seth Rogen on this lineup — not to mention returning stars like James Earl Jones — it already seems like Disney has its next big hit on its hands. It's just darn rude that we have to wait two full years for this magic.
Despite the excruciatingly long wait, it'll be nice to see Queen Bey back on the big screen (in some form, at least), though, since her last performance not related to her music was in 2013's Epic as Princess Tara.
We may not have gotten to see Beyoncé in Beauty and the Beast, but I have no doubts she's going to make up for it in The Lion King. Until then I'll be over here trying to figure out who to get in touch with to get that Lemonade musical made.
Check out the entire Gen Why series and other videos on Facebook and the Bustle app across Apple TV, Roku, and Amazon Fire TV.