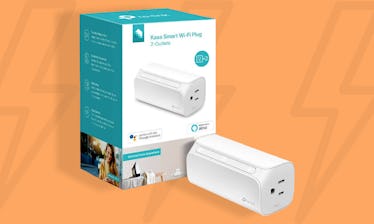 If You Have A Google Home, You Won't Regret Investing In These Smart Plugs
Amazon/Elite Daily
If you're looking for a smart plug with Google Assistant that also helps monitor your energy costs, you'll need the best smart plug for the Google Home. These must-have smart plugs do much more than control your lights, and they'll save you money in the long run, too. The best ones have scheduling and energy-monitoring features that, once you enter your electric company's standard rate in the brand's app, track your power usage and predict your electric bill, giving you full control of your electric spending.
When choosing the best smart plug for your Google Home, there are only two things you need to bear in mind: size and compatibility. Most smart plugs vary in size, and some tend to be quite large. If your outlets are limited, you'll want a smaller plug that won't block your second outlet. It's also important to make sure your smart plug is compatible with your smartphone and other smart devices like light bulbs if you plan on connecting them, too.
To help you get the most out of your smart home and save on your next electric bill, here's a roundup of the best smart plugs for the Google Home. Spoiler: They're all on Amazon.