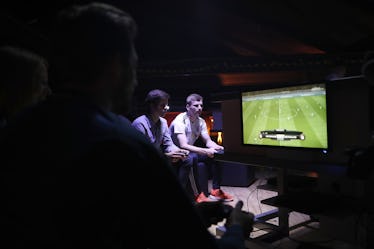 All The Black Friday Video Game Deals That Are Perfect For Your Favorite Gamer
Boris Streubel/Getty Images Sport/Getty Images
For as long as I can remember, Thanksgiving was always a two-day holiday. Thursday was for sitting around watching Thanksgiving programming while those who liked to cook hung out ion the kitchen. Friday was for people who liked to shop to go to the malls. With less than 1,000 hours left before Christmas, it's time to start planning which deals to get online and which stores to hit in person for that gamer in your life. Let's run down some of the best Black Friday 2017 video game deals that are going to be out there this year.
We've been looking around to see which consoles will be discounted. The bad news is that the Nintendo Switch doesn't seem to have any deals. Most places are adverting them for the regular price of $300. Nintendo doesn't have a lot of incentive to discount their stuff right now, since they've basically cornered their share of the market anyway.
The PS4 and PS4 Slim, on the other hand, are available with NewEgg carrying the PS4 at $199 (down from $299) and Walmart and Toys R Us carrying the PlayStation 4 Slim (1 TB) at $199 (down from $299). Playstation and X-Box are in a running war and have lots of incentives to discount everything.
There's also the PlayStation VR console, which Amazon is selling in two different Bundle versions: with Gran Turismo for $299 or Skyrim for $349. The VR market is still new and audiences are not wholly convinced this is what they should spend their money on, which is why the bundled deals include two of their most popular games.
For the X-Boxers, NewEgg, Walmart and Toys R Us are all running the same Xbox One S (500 GB) deal for $189 (usually $229). This seems to be the only major deal across the board for them.
As for games, here's Amazon's rundown of the best Black Friday 2017 deals. These are all multi-platform games, they also have deals on titles for specific consoles at the link if you're looking for something specifically for your platform:
Top End ($30-$40)
Battlefield 1 Revolution
CoD: Black Ops III Zombie Chronicles
Call of Duty: WWII
Destiny 2
Fallout 4: Game of the Year Edition
FIFA 18
Just Dance 2018
Madden NFL 18
Middle Earth: Shadow of War
NBA 2K18
NBA 2K18 200,000 VC
NHL 18
Overwatch GOTY Edition
Project Cars 2
WWE 2K18
Mid Range ($20-$29)
Assassin's Creed Origins
The Evil Within 2
Final Fantasy XV
Grand Theft Auto V
Injustice 2
NBA Live 18
Need For Speed: Payback
Outlast Trinity
Resident Evil 7: Biohazard
South Park: Fractured But Whole
Tom Clancy's Ghost Recon: Wildlands
Tom Clancy's Rainbow Six Siege Gold 2-Year
Wheel of Fortune and Jeopardy
Wolfenstein II: The New Colossus
Best Deals ($12-$19)
Bioshock: The Collection
Borderlands: The Handsome Collection
Call of Duty: Advanced Warfare
Deadpool
Dishonored 2
Dishonored: Death of the Outsider
Doom
The Elder Scrolls V: Skyrim Special Edition
For Honor
Just Cause 3
Mafia III
Mass Effect: Andromeda
Mortal Kombat X
Need For Speed
Tekken 7
Titanfall 2
Watch Dogs 2
Yooka-Laylee
And here's Toys R Us best deals for Black Friday 2017. They don't distinguish in their ads between multi platform and not, so check the link
Top End ($30-$40)
FIFA 18
Injustice 2
1-2 Switch
Grand Theft Auto V
Rainbow Six Siege
Middle-Earth Shadow Of War
Overwatch
Ghost Recon Wildlands
Watch Dogs 2
Madden 18
Mid Range ($20-$29)
Best Deals ($12-$19)
Call of Duty: Black Ops III
Assassin's Creed Origins
Gears of War 4
Call of Duty: World War II
The Crash Bandicoot Collection
Happy gaming!