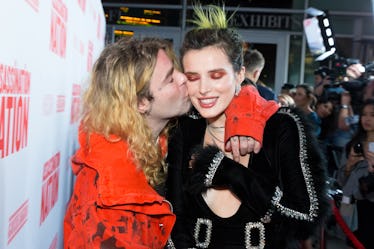 Bella Thorne Announced Her Breakup With Mod Sun With The Saddest Instagram Caption
Greg Doherty/Getty Images Entertainment/Getty Images
If you're ready to have your heart broken into a million pieces, you might want to take a look at Bella Thorne's Mod Sun breakup Instagram caption. Thorne announced her split from the rapper on Instagram by posting a mirror selfie featuring him in the background. Her caption doesn't provide us with a ton of deets, but it does make it clear that the two have parted ways. "I will always love you," she wrote. "All good things must come to an end." She punctuated the sadness of the caption by adding a broken heart emoji at the end. Ugh, so sad.
Page Six reports that Thorne and Sun were together for over a year. If you're wondering why the couple split, there's unfortunately not a whole lot of answers out there as of now. Thorne hasn't said anything outside of that one cryptic caption and Sun has remained totally mum about the breakup. Instead, Sun seems to be throwing himself into work. His Instagram story is currently devoted solely to promoting his new shoe line.
Up until news of the breakup broke today, the two appeared totally in love. Just a few months ago, on Valentine's Day, Sun shared a video that looked a whole lot like a wedding. And the caption had fans even more convinced that couple had just tied the knot. "I know how lucky I am. I know I met u 1000 years ago," he wrote. "I won't lose u this time. I promise to rub ur toes every night, that's our deal. I love u @bellathorne."
If you're wondering what made about this video had fans so convinced that the two had tied the knot, it was because Thorne was literally wearing a wedding gown and a veil as she kissed a white suit-clad Sun... on an altar... in front of a clergy person of some sort. So, yeah, definite wedding vibes. But neither Thorne nor Sun confirmed the marriage so, alas, we're left wondering.
Their relationship was famously open; Thorne also dated YouTube star Tana Mongeau. That being said, Thorne and Mongeau split before Thorne cut ties with Sun. Thorne announced her split from Mongeau on Twitter almost two months ago at the end of February. "Tana and I aren't together anymore, pls stop asking," she wrote. "We love U guys."
Mongeau also took to Twitter to share the sad news, but maintained that there's no bad blood between her and her ex. "i love her forever don't get that twisted," she wrote. "she changed my life forever. don't rly wanna talk on it." She also added that "there's no negativity at all" between them.
People reports that Thorne and Mongeau were together for "a little over a year." Thorne spoke candidly about her open relationship in an interview with Gay Times for their February 2019 issue.
"I don't think anybody will really understand the bonds that I share with Mod or Tana," Thorne told the outlet. "Yeah, we joke around about poly, but we aren't in the sense that we don't put a word, a box or label too many things. It is what it is."
Here's to hoping Thorne's broken heart heals soon.