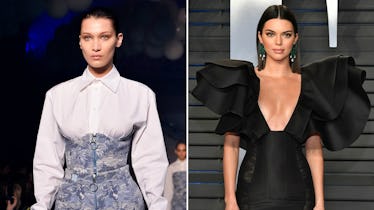 Bella Hadid Called Out A Hater Who Insulted Her & Kendall Jenner & I'm Screaming
Francois Durand/Dia Dipasupil/Getty Images Entertainment/Getty Images
The internet can be a scary place. Sure, it has memes and gifs and all of the latest gossip, but it also has some people who are only trying to bring others down. Those people are called trolls, and man, can they be mean. Unfortunately, celebs deal with trolls all of the time, and most often, they ignore what their haters are saying, but Bella Hadid's Instagram comment about her and Kendall Jenner will make you SCREAM, fam.
Here's what went down: Over the weekend, a fan account posted a side-by-side image of our girls Bella Hadid and Kendall Jenner. The caption said, "Kenny or Bella?" and honestly, do we have to even choose? Because I'd choose both.
But one Instagram user decided to try and bring both girls down, commenting,
2 fake b*tches sitting in a tree, first comes the nose job, then come the lips, oh and don't forget the built in cheeks 😂 lmao y'all tripping fam, money can get you a new face but not a nicer personality which these two girls need.
But instead of ignoring the beyond-rude comment, Bella Hadid clapped back in the literal best way possible. "I wish you would know either of our personalities," Hadid wrote. "And not only that, I wish you would only grasp a heart of your own. Blessings to you sweetheart. Jealousy is a cry for help that I wish I could help you with."
YUP, our girl totally went there.
Also, I'm 100 percent stealing "Blessings to you sweetheart" whenever someone starts getting salty with me, so a big thanks to Bella for that.
The Instagram user has since deleted her comment (and Hadid's response by default), but screenshots were taken, so this clap back can live on for all of eternity.
This isn't the first time that Bella Hadid is standing up to anyone smack-talking her family or her friends, either. Back in 2016, OG supermodel Stephanie Seymour shaded Gigi Hadid and Kendall Jenner, saying that they were beautiful but needed "their own title" instead of being called a supermodel. In an interview with Vanity Fair, she said,
They are completely different than we were. Supermodels are sort of the thing of the past. They deserve their own title. [Kendall Jenner and Gigi Hadid] are beautiful girls, and I support all of them, but they need their own title. Bitches of the moment! That would be a good title for them.
That comment didn't go over too well for sister Gigi's sister, Bella. And, in true badass form, Bella responded to Stephanie Seymour's words with some words of her own. In an interview with Glamour, Bella said:
It's crazy. I've worked with Stephanie before and loved her; she was sweet to me. I don't know if she meant it in that mean way. But even so, it's still hurtful. My sister and Kendall work their asses off. We're all working hard. You just have to let your success speak for itself… because at the end of the day, we're making our money... I don't want anybody to fail. Why would you wish that upon somebody? If you're a powerful woman and you're confident in yourself, you want other people to succeed.
Seymour did end up apologizing, and, in an Instagram post, said, "A supermodel is a supermodel," adding, "I respect and admire all these women in my industry, in particular Gigi Hadid and Kendall Jenner. Having been in the business over 20 years I know how hard these women work. Bravo to both Gigi and Kendall for their success!!"
See that, world? Proof that Bella is a true ride or die, calling out anyone who tries to cross her family, her friends, or herself.
All hail Bella Hadid, and blessings to anyone who gets in her way.