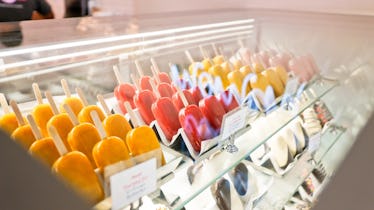 Baskin-Robbins' New Colorful Ice Cream Novelties Will Make The Perfect Dessert 'Gram
Ice cream comes in all shapes and sizes and lets just say I do not discriminate when it comes to frozen goodness. That's why I'm so excited about the new Baskin-Robbins' "Moments" Store, which features fresh and modern ice cream novelties for a sweet treat. Baskin-Robbins is bringing in new frozen goodies, more toppings, and refreshing the look of some of their ice cream shop locations for a contemporary twist. The new ice cream novelties aren't available just, but it won't be long before you start to see the treats in select Baskin-Robbins locations around the country.
Baskin-Robbins is undergoing a bit of a makeover right now. The ice cream parlor is unveiling a new store concept and new menu items for customers to chow down on in the very near future. The first shop has already opened up in Fresno, California as of Nov. 28, and more are slated to be opened in 2019. Per a press release, the updated and "modernized menu" will feature new products known as "ice cream novelties." What exactly do these "novelties" include? Well, for starters, you can count on finding premium, hand-dipped, and snackable frozen goodies on the revamped menu at Baskin-Robbins. I'm talking chocolate-dipped bananas, Polar Pizza slices, and ice cream bars. Oh, and Baskin-Robbins also plans to offer a smoothie bar at their "Moments" stores, too.
If you still want the traditional scoop of ice cream, why not try it in one of Baskin-Robbins' new waffle cones? The cones are hand-dipped are for a super fancy finish. Baskin-Robbins also plans to expand the toppings station, so you'll have more to choose from than just rainbow sprinkles. You will be able to customize your ice cream however you'd like. Personally, I like to load up on chocolate sprinkles, mini marshmallows, and gummy bears when there is an ice cream toppings bar. I can only imagine the possibilities that will be unleashed with the new Baskin-Robbins' ice cream novelties toppings station. There better be some sour candy up there, too.
You can expect to find these new ice cream offerings at select Baskin-Robbins locations within the upcoming months, according to the company. The company did not give an exact date, but rest assured that you will be able to try out the new menu sooner rather than later.
The new "Moments" store features upgraded digital menu boards, so you can see what you're getting before you actually place your order. I'm that person who usually stands in line and scrolls through pictures on Yelp to trying to decide what to order. No need to do that now thanks to Baskin-Robbins' updated photo and video menu boards. That's not the only update Baskin-Robbins is making. The "Moments" stores will feature lots of large, colorful and interactive artwork pieces and murals that reflect the local community in which the store operates. There will be more seating options for patrons, including outdoor seating for those warm summer days.
"Our new 'Moments' design represents our brand purpose – to spark joy and optimism and help guests create joyful moments with family and friends while enjoying great-tasting ice cream and amazing flavor variety. It's the cornerstone of who we are as a brand and gives guests an entirely new way to experience Baskin-Robbins," Senior Vice President, Baskin-Robbins U.S. & Canada said Jason Maceda in a press release.
Honestly, the whole concept sounds super sleek and totally Instaworthy. I'll see you there.